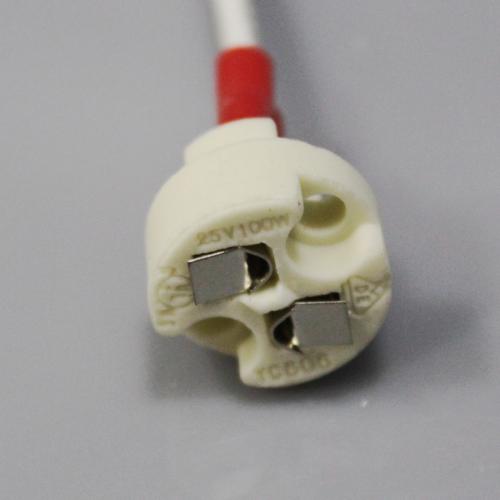 12v halogen lamp holder G4/G5.3 Base MR16 Lamp 12V:
Use this wire connector socket to fit any MR16 or MR11 bulb into a hard wire system. It allows you to plug in your LED, CFL or halogen bulbs and attach it to normal lighting wires.
(12v) 2-pin halogen lamps. Each pin contact in the socket consists of 2 C-shaped halves that are spring-loaded to hold the pin.
12v halogen lamp holder with wires
Suitable for MR16 type ceiling light, halogen lamp, LED bulbs, low voltage lamp and more
Size: Approx. 0.3-inch diameter, 0.6 inch high
Cable Length: Approx. 7 inches
Voltage: 12V
Power: 10-50W
Material: Ceramic
Color: White.
A 12v lamp holder is a socket that holds and connects a 12-volt light bulb to an electrical circuit. It works by providing a secure socket for the bulb to be inserted into, and then connecting the wires from the circuit to the contacts on the holder.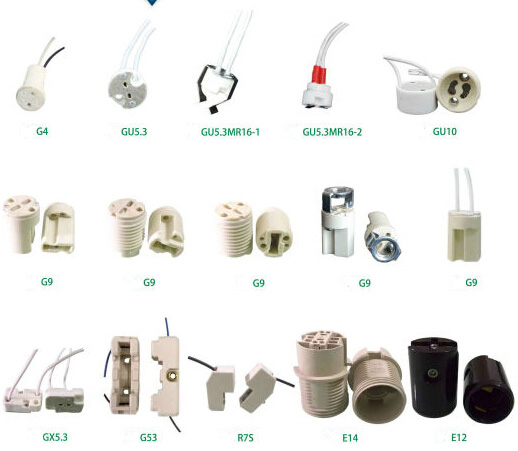 James light bulb holder has already exports porcelain lamp holder in more than 25 countries, we supply naked lamp holder for big brand OEM factory, high quality 12v halogen lamp holder and worldwide shipping available, new specs for a great factory price a [email protected]
Running on 12 volts with a 75-watt maximum, these 12v halogen lamp holders replace damaged sockets in bullet fixtures, path lights, floodlights, and indoor lighting. This universal MR16 halogen lamp holder fits any brand lighting fixture that receives an MR16 lamp. For bulk orders, please contact our lighting experts for discounted pricing and accurate lead time.
These mini bi-pin 12v halogen lamp holders are designed for G4, G6.35, GY6.35, GX5.3 base light bulbs. These connectors are made up of Metals Sheet, little Spring, and porcelain insulator, with Silicone Coper Wire.
These 12v halogen lamp holders are compatible with LED, CFL and Halogen bulbs. Our product is rated up to 250V and 100W, which will satisfy your various lighting demands.
FAQ:
How do I choose the right 12v lamp holder for my project?
When choosing a 12v lamp holder, you should consider factors such as the type and wattage of the bulb you will be using, the voltage and current of your circuit, and the size and shape of the holder itself. You should also ensure that the holder is rated for the temperature and environment where it will be used.
Can I use a 12v light socket with an LED bulb?
Yes, you can use a 12v light socket with an LED bulb as long as the holder is compatible with the specific type of LED bulb you are using. LED bulbs typically require less wattage than halogen bulbs, so be sure to choose a holder with an appropriate wattage rating.
What is the difference between a bi-pin and screw base 12v lamp holder?
A bi-pin 12v lamp holder has two small pins that hold the bulb in place, while a screw base holder has a threaded socket that screws onto the base of the bulb. The choice between the two types depends on the specific bulb being used.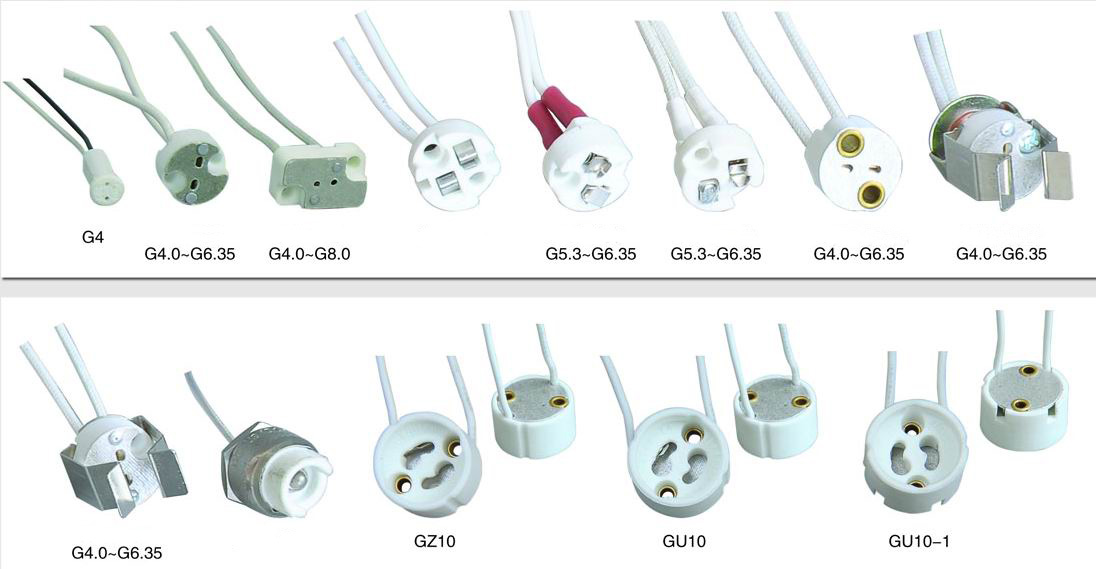 What is the difference between a 12v AC and 12v DC lamp holder?
A 12v AC lamp holder is designed for use with alternating current circuits, while a 12v DC holder is designed for use with direct current circuits. The choice between the two types depends on the specific type of circuit you are using.
Can I use a 12v light socket with a transformer?
Yes, you can use a 12v light socket with a transformer to convert the voltage of the circuit to 12 volts. Be sure to choose a transformer with the appropriate wattage rating for the holder and bulb being used.
What is the difference between a low-voltage and line-voltage 12v light socket?
A low-voltage 12v light socket is designed for use with circuits that operate at less than 50 volts, while a line-voltage holder is designed for use