Full range of high quality B22 porcelain lamp holders, B22 light sockets with leads and brackets available, most items carry full approvals of UL, SAA and CE.
Custom-made B22 ceramic sockets are our strength, customizing a lamp holder can meet your particular lighting needs. So, feel free to contact us!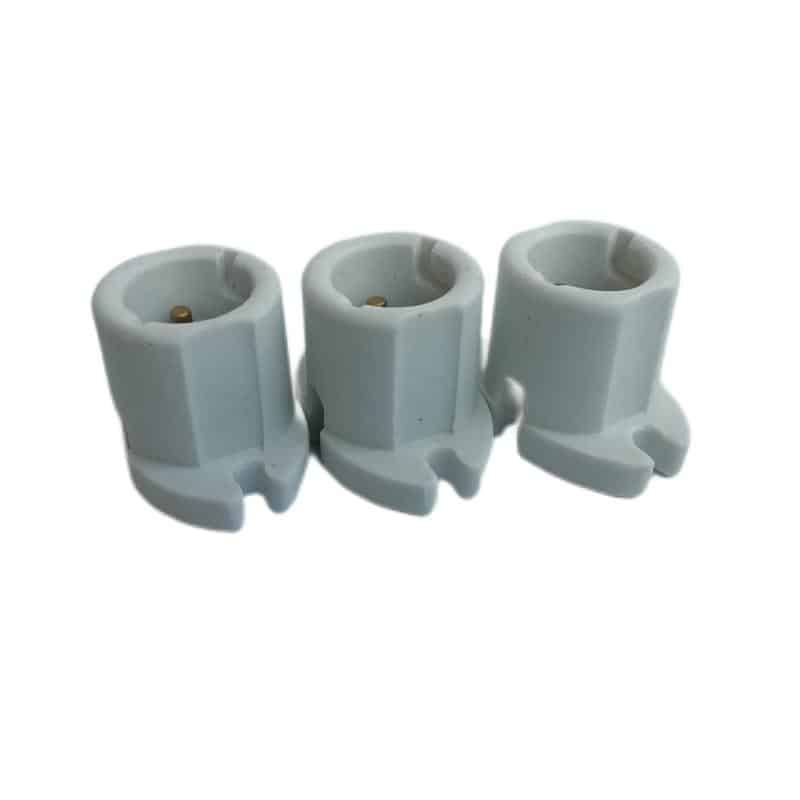 REQUEST A QUOTE FOR MORE DETAILS
The Benefits of Using B22 Porcelain Lamp Holders
A B22 porcelain lamp holder is a type of socket that is commonly used in light fixtures to hold and connect light bulbs.
The B22 designation refers to the size and shape of the base of the light bulb, which has a bayonet fitting with two pins spaced 22mm apart.
The porcelain material provides durability and heat resistance, making it a reliable choice for high-temperature applications.
High quality B22 bayonet porcelain lamp holder suitable for ceramic heaters, emitters, metal halide, heat lamps, reflector lamps, spot lamps, incandescent and discharge lamps (HID). Suitable for use with high powered lamps generating high heat levels.
Made to withstand the high temperatures generated by heat basking / discharge lamps. Many applications include aquariums and vivarium.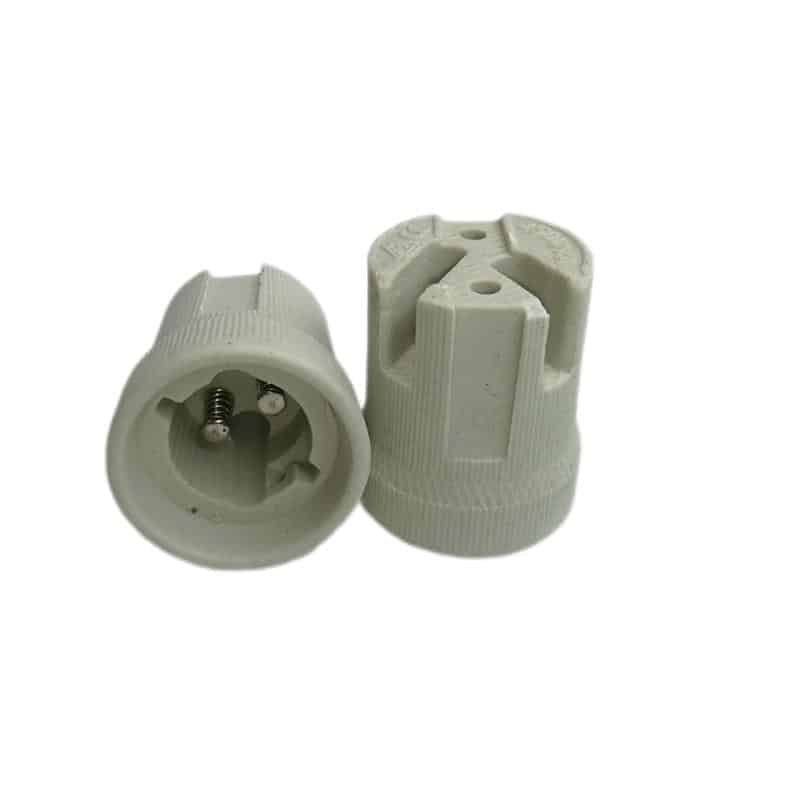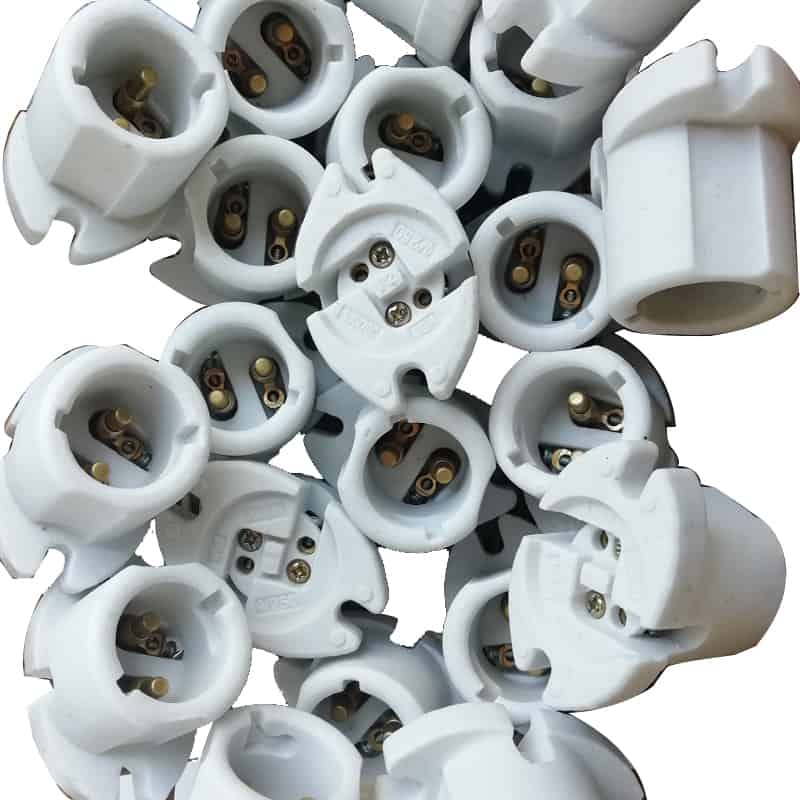 Why B22 Porcelain Lamp Holders
B22 porcelain lamp holders
Voltage: 250V
Current: 2A
Maximum Wattage: 60W
Solid brass ring for shade support
Supplied unassembled
Carton quantity 400
Inner box quantity 100
Porcelain material for durability and heat resistance
Suitable for high-temperature applications
Bayonet fitting with two pins spaced 22mm apart
Material porcelain coverage,
Nickel-plated copper screw, brass center contactor.
Wire termination is from the base of the lamp holder using screw in terminal blocks for wires of 0.5-2.5mm² suitable for a range of different wire types including multi-stranded and solid core. Fixing holes provided on the base.
A Durable and Stylish Lighting Solution
B22 ceramic light bulb sockets are a reliable and versatile option for a wide range of lighting applications.
Whether you are looking to replace a socket in a residential fixture or need a durable socket for an industrial setting, sockets are a great choice.
With their durable ceramic construction, compatibility with a range of bulbs, and ability to withstand high temperatures, they are a reliable and practical option for any lighting application.
It's important to use the correct type of socket for the corresponding light bulb to ensure safety and compatibility.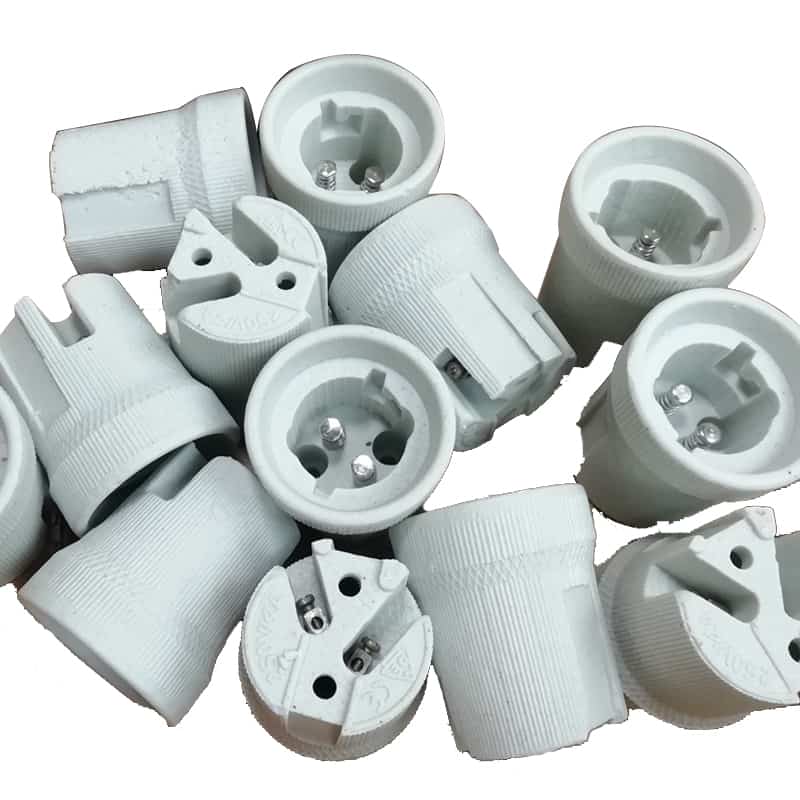 Why Choose B22 Ceramic Sockets?
We're Trusted By The Best
You can get the best quality B22 lamp sockets, because we supply many big brands, The customized lamp holders can be made if you don't like what we have.
Our outstanding service is a great beginning of your easy import, dramatically improve your product margins.
▶We have over 30 years' experience in design and manufacturing of B22 lamp holder.
▶Our factory has been accredited to CCC and ISO9000 approval.
▶We specialize in lamp holder parts from raw materials to finished products.
▶Facilities and capabilities to design and develop new products to meet OEM project requirements.
▶We have a well-equipped in-house engineering tool shop and testing laboratory.
▶We follow the latest changes in published safety standards and European regulations.
Manufacturer of standard & custom sockets including Porcelain light sockets, Bakelite lamp socket, Brass sockets, Light bulb adapter and Pendant light socket.
Stocking programs provided. SAA, CE & UL approved. On-time delivery.
What are the standard dimensions for a B22 porcelain lamp holder?
The B22 porcelain lamp holder has a bayonet fitting with two pins spaced 22mm apart.
Can B22 porcelain lamp sockets be used with LED bulbs?
Yes, B22 porcelain lamp sockets can be used with LED bulbs as long as they have the correct bayonet fitting.
What is the maximum wattage of B22 ceramic sockets can support?
The maximum wattage for a B22 porcelain lamp holder is typically 60W.
Are B22 porcelain lamp holders suitable for outdoor use?
Yes, B22 porcelain lamp holders can be used in outdoor applications as they are weather-resistant.
What is the voltage rating for B22 porcelain light sockets?
The voltage rating for a B22 porcelain light socket is typically 250V.
What is the difference between the B22 porcelain lamp holders and E27?
The main difference between a B22 and E27 porcelain lamp holder is the size and shape of the base of the bulb they hold.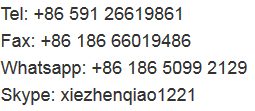 URL : www.lightbulbsocket.com
Add: NO.77, Shanli Road, Mingqing, Fuzhou, China.