Full range of high quality E26 porcelain lamp holders. E26 base with brackets available, including the keyless, pull chain, and turn knob varieties. The keyless socket is the most basic type, without any on/off switch or other features. Most items carry full approvals of UL, SAA and CE.
Custom-made medium sockets are our strength, customizing a lamp holder can meet your particular lighting needs. so, feel free to contact us!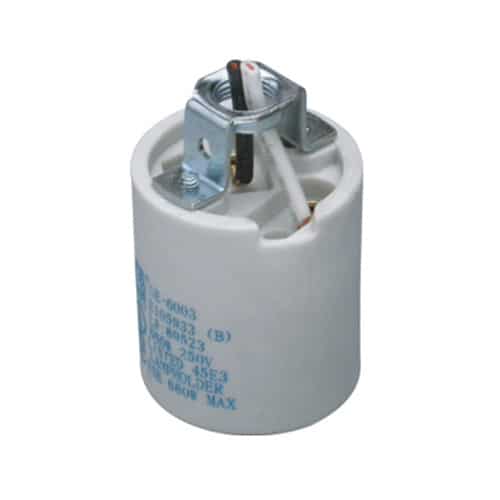 REQUEST A QUOTE FOR MORE DETAILS
All You Need to Know About E26 medium lamp sockets
E26 porcelain lamp holder is a type of socket used for light bulbs in electrical installations. It is made of porcelain, a type of ceramic material that is known for its high heat resistance and durability.
"medium" indicates a bulb base that is about 1″ in diameter. Synonyms for medium are "standard", "Edison" and E26. It's best to call medium "medium" or "E26" because when other bases are being discussed, the two other synonyms may cause confusion.
Here in the US and elsewhere, there are other screw-thread lamp bases that are prefixed with an "E" followed by a number indicating diameter expressed in millimeters. "Edison" is medium in the US.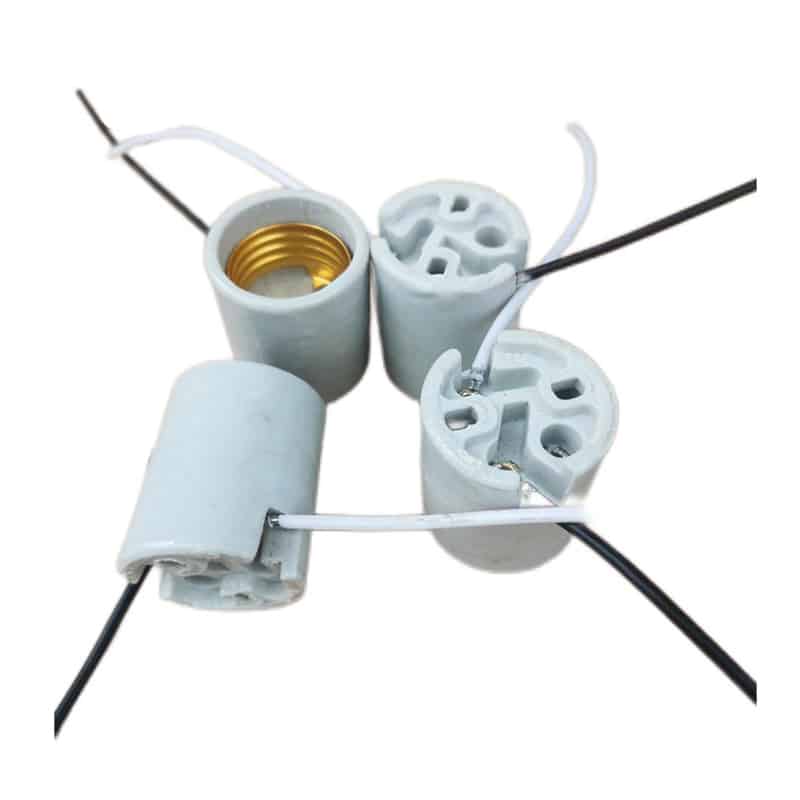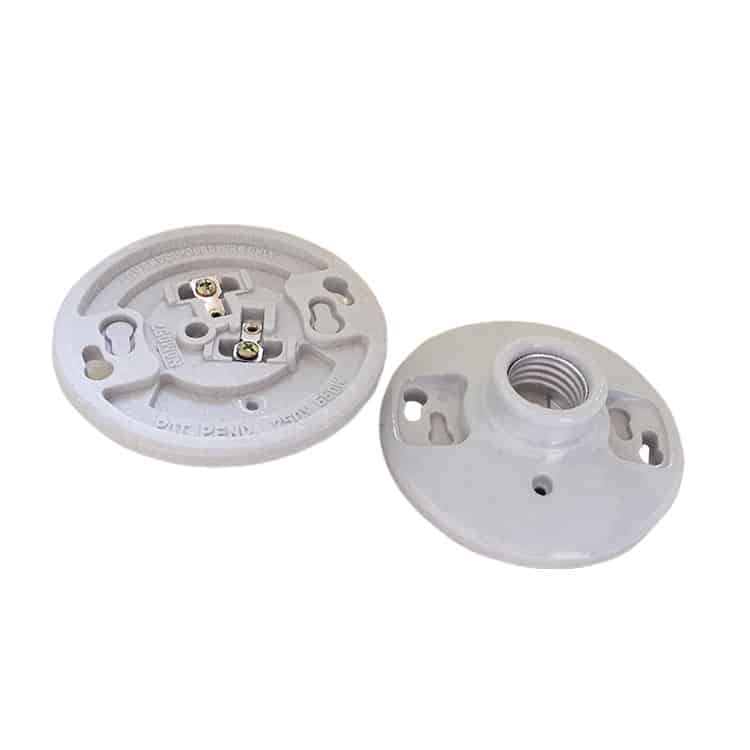 E26 Medium lamp base with brackets available
Voltage: 250V
Current: 4A
Material: Porcelain
Base Type: E26
Keyless, commercial grade, rated 660W/250V
Straight body with screw terminals on bottom
E26 Lamp base dimensions is 45mm high by 40mm wide (26mm screw)
Nickel plated copper alloy screw shell
Medium base E26 socket – fits LED & incandescent bulbs.
E26 porcelain lamp holders are commonly used in homes, offices, and industrial settings. The bases are used to hold light bulbs securely in place and provide a safe electrical connection between the bulb and the wiring.
The sockets are available in various designs and sizes to meet different lighting needs. Some examples of E26 porcelain lamp holders include keyless porcelain lamp holders, porcelain lamp holders with pull chain, and porcelain lamp holders with a screw ring.
1, E means the Edison screw bulbs, 26, 27 is the nominal diameter of the light bulb thread. E26 is the American Standard Specifications, E27 is the European standard specifications. Our countries have adopted European standard specifications.
2, E26 E27 least half spiral, the E26 lamp holder is 110V, the latter is 220-240V, although there is not much difference in the use of the E26 European countries certainly short life, easy on the human body is difficult to predict the harm.
3, E26 E27 caliber is not quite as big, one is 26, one is 27, light bulb comparison test: You can use an E26 bulb test; feel tight E26 loose is E27; vice versa E27 lamp test: tight, E26, better rotation is E27.
4, E26 and E27 are different in appearance, E26 usually have cable, but the E27 lamp holder is usually threaded through the terminal to connect the wire; two different standards of the Department of lamp holder, E26 is the American standard system, E27 is based on IEC standards.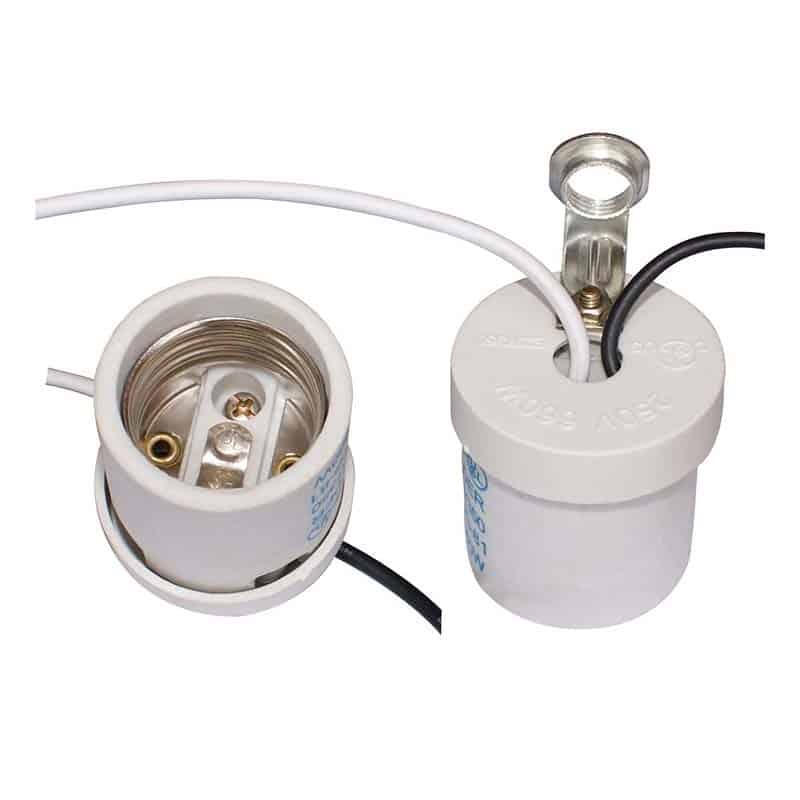 Why Choose E26 lamp holder?
We're Trusted By The Best
You can get the best quality lamp sockets, because we supply to many big brands, The customized lamp holders can be made if you don't like what we have.
Our outstanding service is a great beginning of your easy import, Dramatically improve your product margins.
▶We have over 30 years' experience in design and manufacturing of E26 lamp holders.
▶Our factory has been accredited to CCC and ISO9000 approval.
▶We specialize in lamp holder parts from raw materials to finished products.
▶Facilities and capabilities to design and develop new products to meet OEM project requirements.
▶We have a well-equipped in-house engineering tool shop and testing laboratory.
▶We follow the latest changes in published safety standards and American regulations.
Manufacturer of standard & custom sockets including Porcelain light sockets, Fluorescent light socket, Bakelite lamp socket, lamp cap, Brass sockets, Light bulb adapter and Pendant light socket.
Stocking programs provided. CE & UL approved. On-time delivery.
What is an E26 porcelain lamp holder?
An E26 porcelain lamp holder is a type of socket used for light bulbs with an E26 base, typically made of ceramic or porcelain material.
Can E26 porcelain lamp holders be used with LED bulbs?
Yes, E26 porcelain lamp holders can be used with LED bulbs as long as the bulb has an E26 base.
What is the difference between E26 and E27 lamp holders?
The main difference between an E26 and an E27 lamp holder is the size of the base; E26 has a 26mm base while E27 has a 27mm base.
E26 porcelain lamp holders compatible with dimmer switches?
Yes, E26 porcelain lamp holders are compatible with dimmer switches as long as the bulb being used is also compatible with the dimmer switch.
Can E26 porcelain lamp holders be used in damp or wet locations?
Yes, E26 porcelain lamp holders are typically rated for use in damp or wet locations, making them suitable for outdoor lighting fixtures.
What types of fixtures are E26 porcelain lamp holders commonly used in?
E26 porcelain lamp holders are commonly used in a variety of fixtures including table lamps, floor lamps, ceiling fixtures, and outdoor lighting fixtures.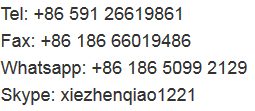 URL : www.lightbulbsocket.com
Add: NO.77, Shanli Road, Mingqing, Fuzhou, China.