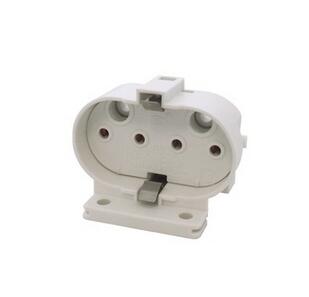 2G11 lamp holder Plastic for led CFL lamps
2G11 lamp holder / 2G11 / Surface Mount Fixing / PBT Body / Phosphor Bronze Contacts / CE, VDE / 2A 250Vac / T140 / RoHS.
Type: 2G11 lamp holder
Rated at 230V 4A 1500W
Weight (Kg):0.027
Temperature: 220℃ for PBT,
Materials: conductive copper + Fire proof PBT
All 2G11 lamp holders should pass 4 quality inspections before loading.
2G11 lamp holder is available for E27 LED/CFL lamp converter 2G11 lamp holder.
Full range of high-quality compact fluorescent lamp 2G11 lamp holder. Our range includes many types of 2G11 lamp holders (CFL) including; 2G11, 2G7, G23, and G24. Suitable as replacements for most applications or for new projects. Most items carry full approvals of CE, SAA, UL and VDE.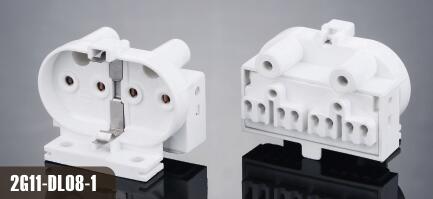 A Plastic 2G11 lamp holder is a type of socket used to hold and connect to a 2G11 base compact fluorescent lamp.
FAQ:
What materials are 2G11 lamp holders made of?
2G11 lamp holders can be made from various materials including plastic, porcelain, and metal.
How many pins does a 2G11 lamp holder have?
A 2G11 lamp holder has four pins.
What wattage can a 2G11 light bulb socket support?
The wattage that a 2G11 light socket can support can vary depending on the manufacturer, but typically it can support up to 55 watts.
What voltage can a 2G11 lamp holder handle?
The voltage that a 2G11 lamp holder can handle can vary depending on the manufacturer, but typically it can handle up to 250 volts.
What types of lamps are compatible with a 2G11 light socket?
A 2G11 light socket is compatible with 2G11 base compact fluorescent lamps.
How do you install a 2G11 lamp socket?
To install a 2G11 lamp socket, simply insert the lamp into the socket and secure it in place.
What are the benefits of using a 2G11 lamp holder?
Using a 2G11 lamp holder allows for easy and secure installation of compact fluorescent lamps, and can provide energy savings and long-lasting performance.
Are there any safety considerations when using a 2G11 lamp socket?
When using a 2G11 lamp socket, it is important to ensure that the wattage and voltage are compatible with the lamp and that it is installed properly to prevent electrical hazards.