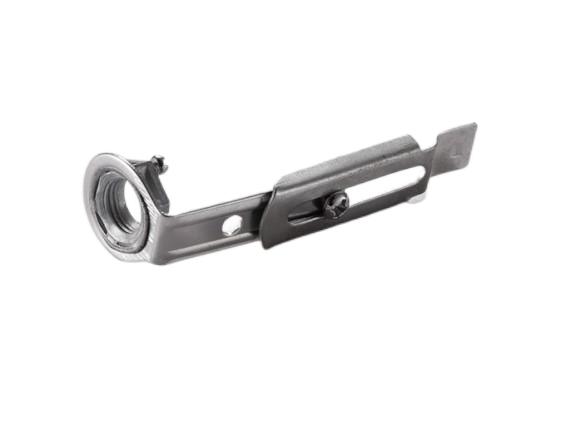 Adjustable Bracket for E14 Candle Light Bulb Sockets.
Specifications:
1. Material: Iron
2. Surface Treatment: Galvanized
3. Color: Zincing Blue
4. Locking Hole: M10
5. Locking Screw: M3
6. Body Length: Customizable from 10-100mm
7. Function: Adjustable
Features:
1. Made of durable iron material
2. Galvanized surface for enhanced longevity
3. Comes in attractive Zincing Blue color
4. Features M10 locking hole and M3 locking screw for secure installation
5. Adjustable body length ranging from 10-100mm
6. Adjustable functionality for flexible usage.
Description:
This Adjustable Bracket is designed specifically for E14 candle lamp holders. Made of robust iron and finished with a galvanizing process, it promises longevity and durability. The bracket comes in an attractive Zincing Blue color, making it a stylish addition to any space.
It features a M10 locking hole and M3 locking screw ensuring secure installation. The body length of the bracket is customizable from 10-100mm, offering flexibility to suit different needs. Its adjustable function enhances its usability, making it a must-have accessory for your lighting fixtures.
Specific Use:
This adjustable bracket is used for securing and positioning E14 candle light bulb sockets. It provides a stable support for the lamp holders, ensuring they stay firmly in place. This is especially useful in commercial and residential lighting fixtures where adjustable lighting angles or heights are needed.
FAQs:
1. What material is this bracket made of?
The bracket is made of durable iron material.
2. Is the bracket's body length adjustable?
Yes, the body length is customizable, ranging from 10-100mm.
3. What is the color of the bracket?
The bracket comes in Zincing Blue color.
4. What type of lamp holders is this bracket suitable for?
This bracket is specifically designed for E14 candle lamp holders.
5. Does the bracket come with a locking screw?
Yes, the bracket features a M3 locking screw for secure installation.