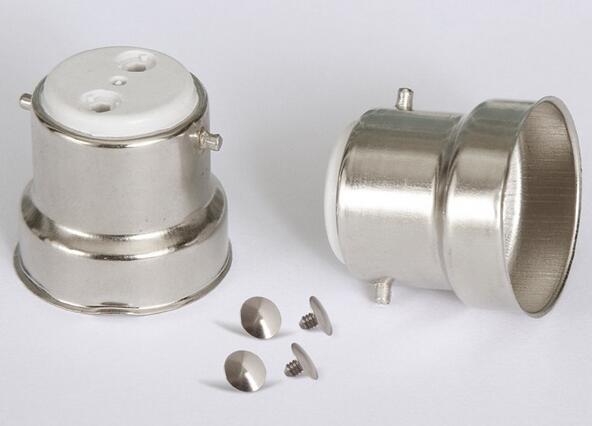 B22 Bayonet Lamp Caps
Certificate: CE, SAA and RoHS
Voltage: 250V
Working Current:4-6A
Material: Nickel brass, Ferrous Nickel-plated Bayonet Cap
Feature: Safe, durable, cost-effective
Bayonet Cap Types: Solder free b22 Bayonet Cap
Carton Size: 51*31*30cm
Quantity per CTN: 2500pcs
Shell body Material:    Iron
Insulator type:           PBT
Color:    Silver
Solder Heat:    110℃
Usage:      Lamp Accessories
Surface treatment:      Nickel plating
OEM:    Available
Warranty:    3 Years.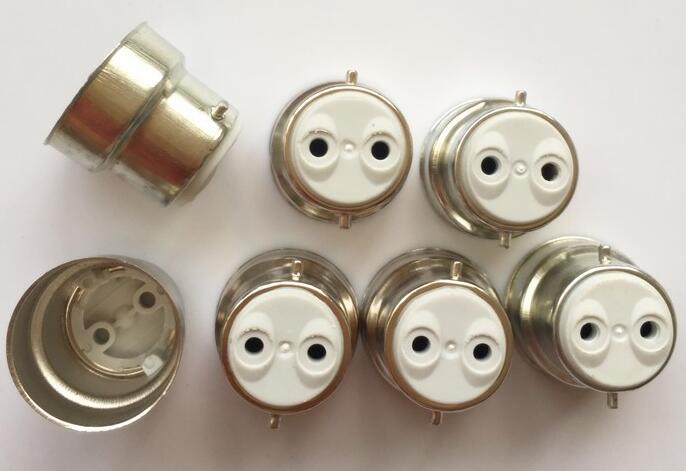 B22 Bayonet Cap
With its familiar "push and twist" action, "bayonet cap" (also known as BC or B22d) is used on most regular light bulbs. It is 22mm diameter and with two locating lugs.
The "small b22 bayonet cap" (SBC or B15d) is very similar but only 15mm across.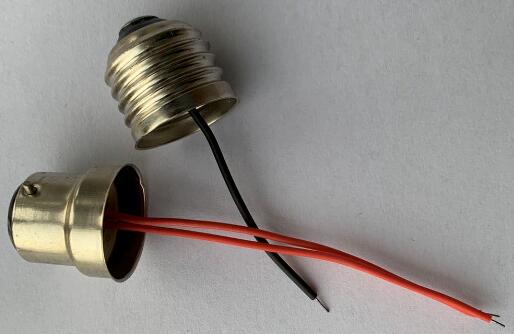 Although generally used for mains voltage lamps, the SBC fitting can also be found in a very small number of specialist low voltage halogen lamps.
There are also many other "BC" variants including the 3-pin BC, B22d-3 Bayonet Cap sometimes used on Foreglow lamps but perhaps more commonly on High pressure mercury lamps for industrial applications. The BY22d is used on some low-pressure sodium (SOX) lamps.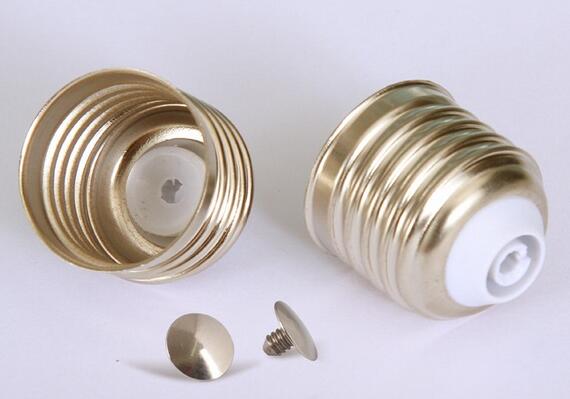 E14 lamp cap Edison Screw Cap, 5000pcs in a carton, 9.5kgs
E27 lamp cap Edison Screw Cap, 2500pcs in a carton,10kgs.
1. Put 5 pcs in 300℃ hi-tem box 5min, No peel off, no bubble, no break.
2.Grip the flare of cap with Ni-plating checker, No break Ni-plating about the eight holes.2017 wholesale free-soldering B22 Bayonet Cap
3.Put the cap with insulator into the 110℃ hi-temp box keeping 48h, no any change to the insulator and no any change to the size of complete lamp cap.
4.Burn on cap insulator with flame, take off the flame, within the 30s any other flame should be extinguished.
5. Compare the insulator with the buyer sample plate and standard color card, same color no diffidence.
6. Put 5pcs sample into the 40℃, 91%~95% testing box keeping 48h, no rust on the outer surface of the cap.2017 wholesale free-soldering B22 Bayonet Cap.
Transportation Ways:
For B22 Bayonet Cap samples, we could deliver by parcel post transport, such as SF, FedEx, DHL, TNT, UPS, etc.
For bulk B22 Bayonet Cap goods, we usually deliver the goods in containers by sea / air / train.
Relative lamp caps: