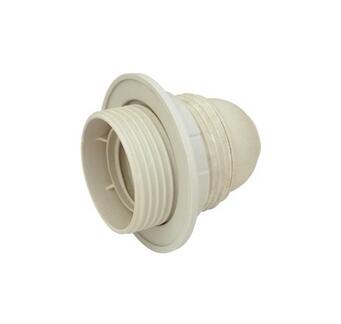 Bakelite E27 lamp base Full Threaded white
E27 Lamp Base Full Threaded / White / 4A 250Vac / T190 / Screw Terminals / 57mm OD Nut / Bakelite Material / CE / RoHS / E27-SD03-2.
E27 lamp base Features
Colour White
Fixing Screw
Current Rating 4A
Wattage 60W
High quality Bakelite E27 lamp base, moulded in white. This is also known as an Edison Screw or ES lamp holder.
Supplied with a full threaded barrel (for the half threaded barrel version please see here), 57mm lamp shade ring, seperate internal electrical connection and cap. This version features a seperate internal part for the electrical connection. E27 lamp base is made using traditional screw terminal blocks to allow for secure connection. This is therefore suitable for use with all wire types including solid core wires and multi strand wires. 4A 250V AC rating to suit most standard applications.
Bakelite E27 lamp base 125V/250V
plastic lampholder with long life span
lamp holder is made of copper or iron
black or ivory are at you choice
E27 lamp base Bakelite Specifications:
1.lampholder: E26 E27 125V/250V,
2.E27 lamp base bakelite is fire proof,
3.lamp holders are made of copper or iron,
Bakelite lampholders for led spotlight.
Additional lamp shade rings can be purchased seperately, as can two types of pendant cord grips which screw into the M10 (10mm) cord entry on the back of the E27 lamp base. Please see the accessories tab for current accessories.