BC (BY22d) b22 lamp holders
Inquiry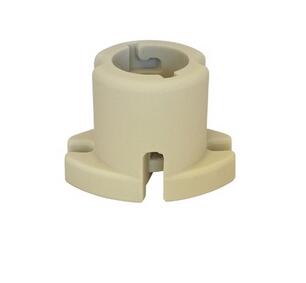 BC (BY22d) b22 lamp holders
BC (B22d) b22 lamp holders ceramic / M4/5 Clearance Hole Fixing / 3A 250Vac 5KV / T250 / RoHS / K567.
b22 lamp holders Features
Fixing M4/5 Screw
Current Rating 3A
Temperature Rating T250
High quality bayonet cap BC (B22d) b22 lamp holders from a leading manufacturer of pocelain lamp holders to fit standard bayonet cap bulbs. 3A 250V AC rating to suit most standard applications. As with all ceramic products this is particularly suited to high temperature environments and applications and is rated up to 250 degrees Celcius. Screw wire termination and hole centres of 41mm and suitable for M4 or M5 screw fixing. Complies with RoHS.
High quality b22 lamp holders suitable for ceramic heaters, emitters,metal halide, heat lamps, reflector lamps, spot lamps, incandescent and discharge lamps (HID). Suitable for use with high powered lamps generating high heat levels. Made to withstand the high temperatures generated by heat basking / discharge lamps.
Many applications including aquariums and vivariums. Bakelite B22 insert T2 (210oC) rated Solid brass ring for shade support Supplied unassembled
Carton quantity 400
Inner box quantity 100
1)Product Name :BC (BY22d) b22 lamp holders ceramic
2)Material porcelain coverage, Nickel-plated copper screw ,brass center contactor
Related Items