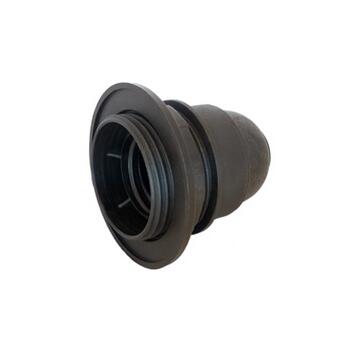 Black Lamp Socket E27 Half Threaded
Socket E27 / Black / 4A 250Vac / T190 / Screw Terminals / 57mm OD Nut / Bakelite Material / CE / RoHS
Socket E27 Features:
Colour Black
Fixing Screw
Current Rating 4A
Wattage 60W
Bakelite Socket E27, moulded in black. This is also known as an Edison Screw or ES bakelite lamp holder.
Socket E27 Supplied with a half threaded barrel, 57mm lamp shade ring, seperate internal electrical connection and cap. This Socket E27 features a seperate internal part for the electrical connection. Socket E27 is made using traditional screw terminal blocks to allow for secure connection. This is therefore suitable for use with all wire types including solid core wires and multi strand wires. 4A 250V AC rating to suit most standard applications. Carries CE (European) approval and complies with RoHS.
Bakelite Socket E27 Vintage Lamp holder Edison fitting.
Bakelite Pendant Socket E27 Edison fitting , 24O V with vintage style body, plastic insert and insulated thread and screw terminals. Cord Grip mechanism insures that cable can not be pulled out of the fitting. Locking mechanism means the body cannot be unscrewed accidentally when changing the bulb.