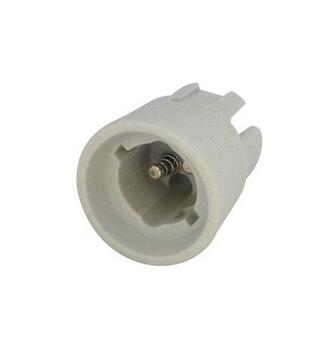 Ceramic b22 socket white
B22 socket / White / 4A 250Vac / T240 / Screw Terminals: 0.5–2.5 mm2 / Fixing Holes: M3 / LB-B22-C / VDE, CE, RoHS
High quality B22 bayonet ceramic (porcelain) b22 socket suitable for ceramic heaters, emitters, metal halide, heat lamps, reflector lamps, spot lamps, incandescent and discharge lamps (HID). Suitable for use with high powered lamps generating high heat levels. Made to withstand the high temperatures generated by heat basking / discharge lamps. Many applications including aquariums and vivariums.
Wire termination is from the base of the b22 socket using screw in terminal blocks for wires of 0.5-2.5mm² suitable for a range of different wire types including multi-stranded and solid core. Fixing holes provided on the b22 socket.
There are two 4mm holes on the base for mounting using M3 fixing. 4A 250V AC rating to suit more demanding applications requiring a start up load of up to 5KV. Suitable for installations up to 230 degrees celcius. Carries VDE (European) approval and complies with RoHS.
Related Items