Ceramic mr16 lamp holder Features:
Base: GU5.3 socket
Body Material: Ceramic
Wafer Material: copper
Electrical parameters:5A/24V
Temperature resistance:300°C
Assembly mode:M4x0.7
Certification: VDE, SAA, CE, UL
Ceramic halogen lamp socket GU5.3 packing Delivery:
1.Packing details :1000PCS/CTN, 1Bag/100PCS
2.Delivery detail: Packing and delivery
Net weight:8g/pcs.
A Ceramic mr16 lamp holder is a type of socket designed to hold MR16 halogen or LED bulbs. It features a ceramic base which can withstand high temperatures and is resistant to heat, corrosion, and electrical insulation.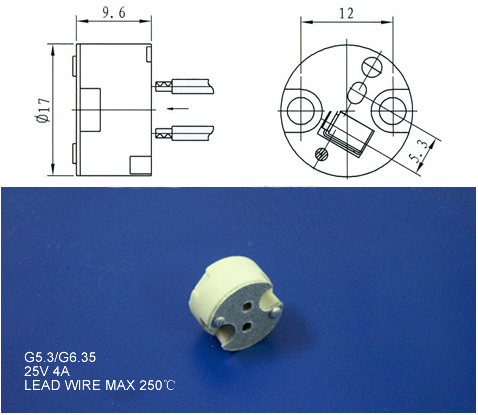 MR16 led lamp holders characters: maximum outside diameter of 2 inches with a multi-faceted reflector lamps in the lighting industry, lighting models by the letters of the alphabet and numbers, MR is the abbreviation of the English Multifaceted (Mirror) Reflector means a plurality of reflecting Surface composition into the reflector.
The digital representation of the maximum outer size of the lamp, as a multiple of 1/8 inch, "16" indicates the lights, With the maximum outer diameter is 2 inches.
Ceramic halogen light socket GU5.3 MR16 lamp holder with metal bracket clips.
Wires attached to gu5.3 light base retaining clips are absolutely the best quality around, they're made of high-quality ceramic and have variety of metal screw shell can meet your requests well. No writing on the porcelain, just simple neat pattern, two contact pieces can ensure good conductivity.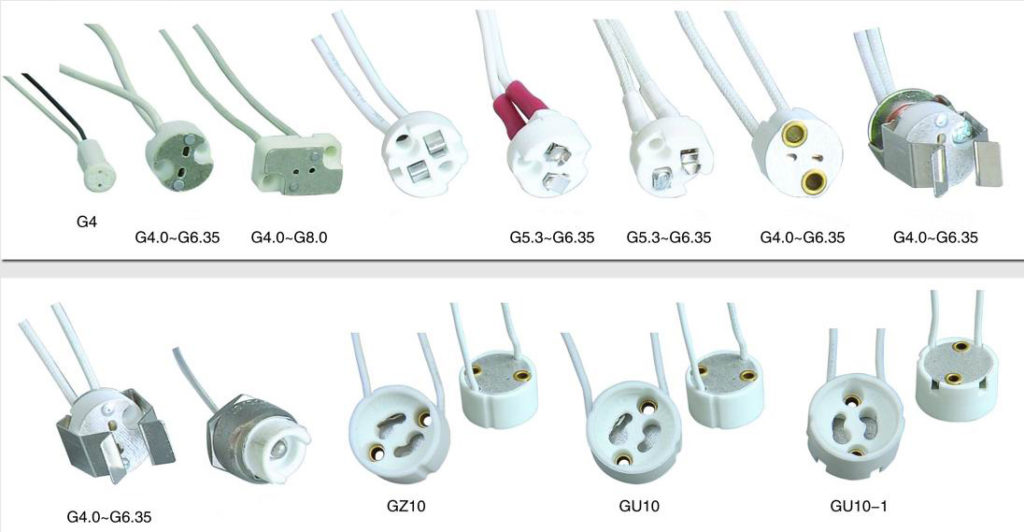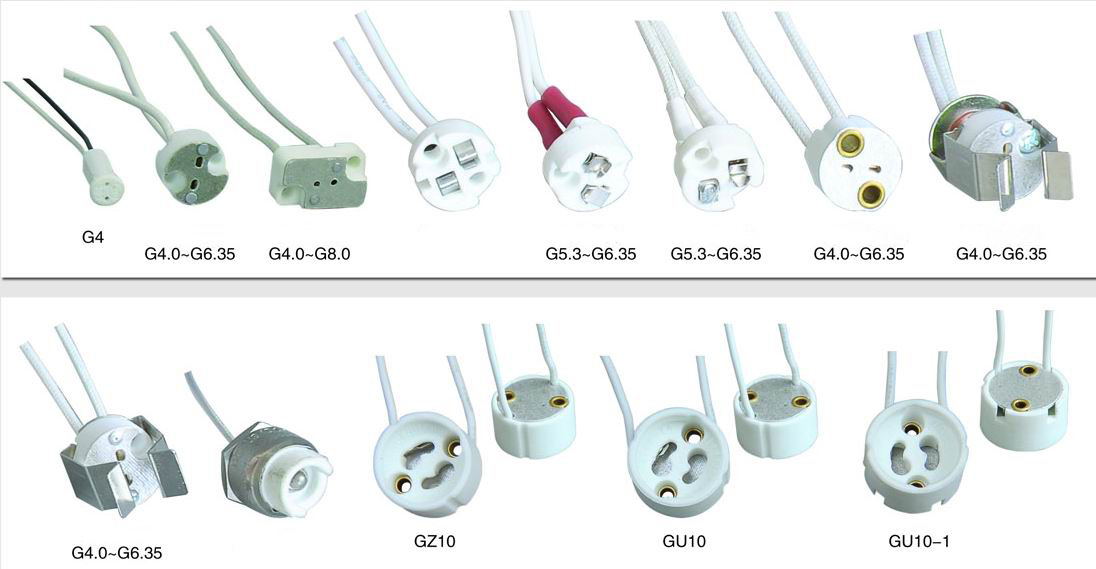 All of that can provide longer usage and more safety. These lamp holders easily remove or put on a light bulb. Perfect for restoring old lamps and lights or for all of your homemade lighting fixtures.
MR16 led lamp holder Application:
Use this to fit any MR16 or MR11 bulb into a hardwire system. It allows you to plug in your LED bulbs and attach it to normal lighting wires.
These round sockets are made from porcelain and work with MR16 lamps along with many other bi-pin lamps, including G4, G6.35, GY6.35, GX5.3 MR16, GZ4, MR11 bases.
Package: 10PCS/20PCS/50CS MR16 led lamp holders plug.
FAQ:
Are Ceramic mr16 lamp holders compatible with LED bulbs?
Yes, Ceramic mr16 lamp holders can hold both halogen and LED bulbs with a MR16 base.
What is the temperature rating of a Ceramic mr16 lamp socket?
Most Ceramic mr16 lamp sockets have a temperature rating of up to 250°C.
Can Ceramic mr16 lamp holders be used in outdoor environments?
Yes, Ceramic mr16 lamp holders are suitable for outdoor use as they are resistant to weather and moisture.
What is the voltage rating of a Ceramic mr16 lamp socket?
Most Ceramic mr16 lamp sockets have a voltage rating of 12 volts.
Can Ceramic mr16 lamp holders be used with dimmer switches?
Yes, Ceramic mr16 lamp holders can be used with compatible dimmer switches.
Summary
Reviewer
Review Date
Reviewed Item
Ceramic halogen lamp socket GU5.3 MR16 lamp holder with metal bracket clips
Author Rating