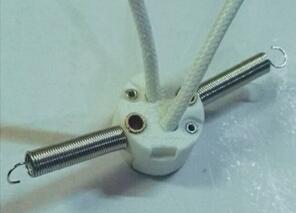 Porcelain GU5.3 lamp holder with spring for LED & halogen lamps
Type: GU5.3 plug in base
Electric current: 2A 100W
Voltage: 250V
5KV T250
Weight (Kg): 0.02
Cable chooses: silicone, braided, Teflon high temperature resistant
Available cord: 0.3 / 0.5 / 0.75 / 1mm2
Main material: Radio ceramic
Contact: Nickel-plated copper.
High quality GU 5.3 socket / GY6.35 ceramic lamp holder with M3 clearance hole fixings. Rated at 10A 50V with temperature rating of T250. Supplied with 350mm 0.75mm2 7599 single insulated Teflon wire (VDE approved), ends stripped to 8mm.
GU5.3 lamp holder with spring Features:
Fixing M3 Screw
Termination Wire Leads
Current Rating 10A
Temperature Rating T250
Wire Length 350mm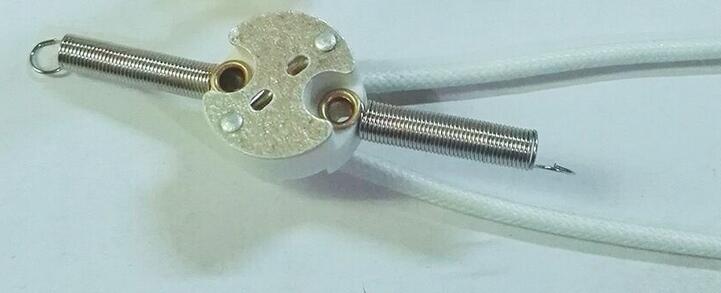 Package Details:
50pcs in a bag
250pcs in a box
1000pcs in an export standard carton
Carton Meas:40cm×28cm×21cm
G.W/N.W.: 15/14kg
Port of loading: Fujian, China.
OEM and ODM are available.
MR16 socket is suitable for all kinds of ceiling lighting fitting.
QC Standard: IEC & ANSI & GB & DIN & BS & AS & SA
All MR16 lamp holders should pass 4 quality inspections before loading.
Halogen Mr16 lamp holder, normally named halogen light socket, are applied to safe bulbs in ceiling lighting fitting and to provide a secure, trusted connection towards the electrical energy supply. JAMES make ceramic MR16 sockets for higher temperature applications that consist of mostly Tungsten Halogens, Incandescent and HID bulb sorts. JAMES provides CE & UL certified halogen sockets for many diverse product applications. Some of them consist of: interior and exterior building illumination, Stage, studio and film, store displays and large areas for general illumination.
FAQ:
What is the maximum wattage supported by a GU5.3 lamp holder?
A GU5.3 lamp holder typically supports a maximum wattage of 50 watts.
What is the voltage rating of a spring loaded GU5.3 light socket?
A spring loaded GU5.3 light socket is designed for use with low-voltage bulbs, typically rated at 12 volts.
What is the size of a GU5.3 lamp socket?
A GU5.3 lamp socket has a diameter of approximately 17mm.
How do I install a GU5.3 lamp holder?
A GU5.3 lamp holder can be easily installed by inserting the bulb into the holder and twisting it clockwise until it clicks into place.
Can I use LED bulbs with a spring loaded GU5.3 lamp holder?
Yes, there are LED bulbs available with a GU5.3 base that can be used with a spring loaded GU5.3 lamp holder.
What is the difference between a GU5.3 lamp holder and a GU10 lamp holder?
The main difference is the size of the pins on the bulb. GU5.3 bulbs have two thin pins spaced 5.3mm apart, while GU10 bulbs have two thicker pins spaced 10mm apart.
What types of fixtures use GU5.3 lamp holders?
GU5.3 lamp holders are commonly used in track lighting, downlights, and landscape lighting fixtures.
Can a spring loaded GU5.3 lamp holder be used with dimmer switches?
Yes, as long as the bulb used is compatible with the dimmer switch.
Summary
Reviewer
Review Date
Reviewed Item
Circular GU5.3 lamp holder with metal spring
Author Rating