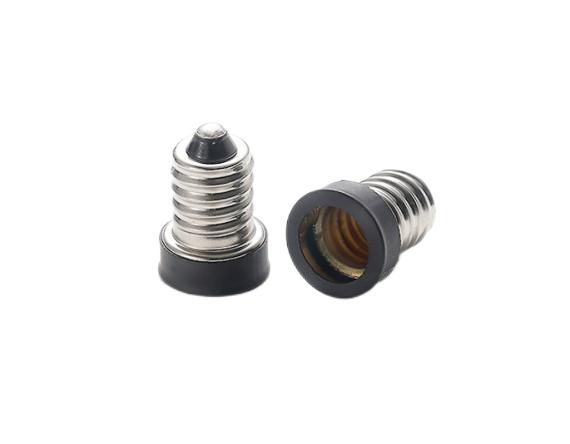 E17 to E14 Compact Light Bulb Socket Adapters in Black.
Specifications:
1. Color: Black
2. Approvals: CE
3. Body Material: Fire Retardant PBT
4. Contacts Material: Copper
5. Product Size: D17xH24mm
6. Light Source Type: E14
Features:
1. Converts E17 lighting base to E14 light source
2. Made from Fire Retardant PBT for enhanced safety
3. Copper contacts ensure efficient electrical transmission
4. Compact size, fitting seamlessly into your existing light fixtures
5. CE-approved for quality assurance
6. Available in sleek Black color.
Description:
The E17 to E14 Light Bulb Socket Adapter is your solution when you need to connect an E14 light source to an E17 lighting base. This compact, efficient adapter is made from fire-retardant PBT with copper contacts, ensuring safe, reliable use.
With its CE approval and sleek Black color, this adapter provides not just functionality, but also the assurance of quality and style.
Specific Use:
The adapter is intended for use in lighting applications where an E14 light source needs to be connected to an E17 base.
FAQs:
1. Can I use this to fit an E14 bulb into an E17 base?
Yes, this adapter is designed to connect an E14 light source to an E17 lighting base.
2. Is this adapter safe?
Yes, this adapter is made from Fire Retardant PBT and copper contacts for safe use.
3. What are the dimensions of this adapter?
The adapter measures D17xH24mm, making it compact and convenient to use.
4. Is this adapter certified?
Yes, this adapter is CE approved, ensuring its safety and quality.
5. What color is this adapter?
This adapter is available in Black.