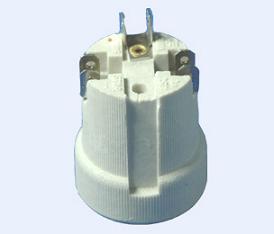 E27 519-3 porcelain lamp holder light bulb sockets
Model NO: E27-519-3
Type: E27 Screw
Rated at 250V 4A 660W
Material: aluminum, copper
Dimension(cm):4.9 x 3.8 x 3.8; 5.7 x 3.8 x 3.8
Weight (Kg):0.062
Place of Origin: Fujian, China
Specifications:
E27 lamp holder/light bulb holder/light bulb socket
Terminal block: zinc, copper
Center connects: copper, iron
Bulb circle: copper, aluminum, iron
Bracket: iron
Starting voltage to 5 kV
Screw Porcelain Lamp holder
For screws ISO 1207 – M4, ISO 1580 – M3
Color: beige, white
Cable chooses: silica, braided, Teflon
Available wire:0.75mm2; 0.5mm2.
ES (E27) Porcelain Lamp holder:
A porcelain lamp holder is available for E27 bulbs.
E27 Lamp Holder is 45mm high by 40mm wide (27mm screw).
The hole centers are 20mm apart in the base for direct fixing or alternatively you can use a side mounting bracket.
Ceramic E27 Lamp Holder takes standard screw cap bulbs, suitable in applications where high temperatures may be produced, by HID bulbs or by operation in a confined space.
Connection is by means of screw connectors and can be made from above or from two sides. Holes are provided for two mounting screws or adding mounting
brackets, clamps, and plates.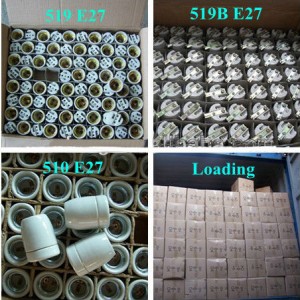 Packing Details:
Export standard carton
Packing:400pcs/CTN
Carton Meas:43X36X29cm
G.W/N.W.: 26/24kg
Certification: UL, CE, VDE, RoHS
Payment & Delivery:
Lead Time:25 days after received 30% deposit
Payment: T/T, L/C at sight, Western Union
FREE SAMPLE is ok, but the freight charges will stand by you
OEM and ODM are available.
FAQ:
What is the size of the E27 porcelain light socket? – The size of the socket is usually standardized as E27, which means it has a diameter of 27mm.
What type of light bulbs can be used with the E27 porcelain lamp holder? – It can be used with a wide range of light bulbs, including incandescent bulbs, LED bulbs, and CFL bulbs.
Is the E27 porcelain lamp holder easy to install? – Yes, it is designed to be easy to install and typically comes with installation instructions.
Can the E27 porcelain light socket be used with a lampshade? – Yes, it is often used with lampshades and other light fixtures.
What is the voltage rating of the E27 porcelain light socket? – The voltage rating is typically 250V or 660V.
What is the temperature rating of the E27 porcelain lamp holder? – The temperature rating is typically between -40°C to 200°C.
Is the E27 porcelain light socket durable? – Yes, it is typically made of high-quality materials and is designed to be durable and long-lasting.