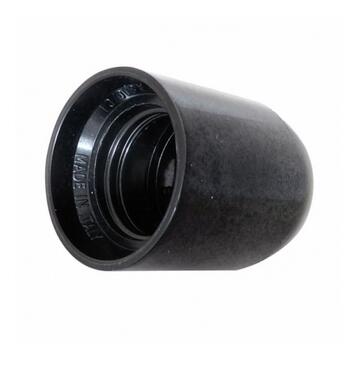 E27 bakelite lamp socket Plain Body Gloss with Earth
E27 bakelite lamp socket / Gloss Black / 4A 250Vac (660W) / T190 / Screw Terminals / Bakelite Material / UL, ENEC, SAA / RoHS / A800E-B.
E27 bakelite lamp socket Features:
Colour Black
Fixing Screw
Current Rating 4A
E27 bakelite lamp socket are made of phenolic resin. This plastic material is known for its resistance to heat, strength, and non-conductive characteristics. In the early days of lamp sockets, a material called Bakelite was used to manufacture these E27 bakelite lamp socket. In fact, Bakelite was the name of those E27 bakelite lamp socket.
High quality E27 bakelite lamp socket with earth terminal, moulded in black. This is also known as an Edison Screw or ES lamp holder.
Supplied with a non threaded barrel, seperate internal electrical connection and E27 bakelite lamp socket cap with earth terminal. This version features a seperate internal part for the electrical connection. Connection is made using traditional screw terminal blocks to allow for secure connection.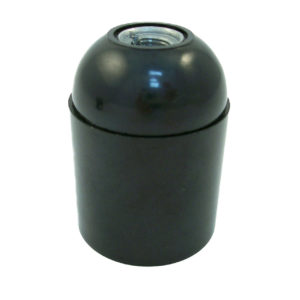 This is therefore suitable for use with all wire types including solid core wires and multi strand wires. Recommended maximum wire size is 2.5mm square. 4A 250V AC rating to suit most standard applications. Carries ENEC (European), UL and SAA approvals and complies with RoHS.
Two types of pendant cord grips are available which screw into the M10 (10mm) cord entry on the back of the lamp holder. Please see the accessories tab for current accessories.
Outer body thread dimension is 40mm, larger than standard BC pendant E27 bakelite lamp socket.