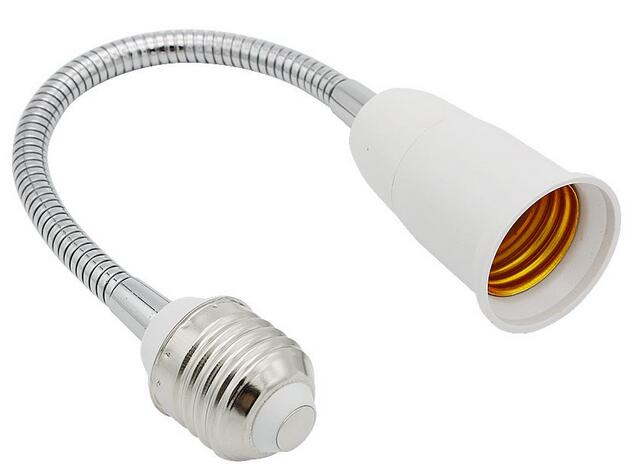 E27 to E27 Flexible light socket extension LED light bulb extension Adapter
E27 to E27 20CM Length Flexible light bulb socket extension LED lamp socket extension Screw Socket Adapter Converter.
E27 bulb socket extension Adapter Converter.
Extend your current existing E27 Screw mount / fixture.
Flexible can change directions on your existing E27 fixture lamp.
Length:28cm
Weight:75g
Rated Voltage: 220V
Style: Screw
Size (Length): 20cm (Approx.)
Material: Premium metal and Plastic.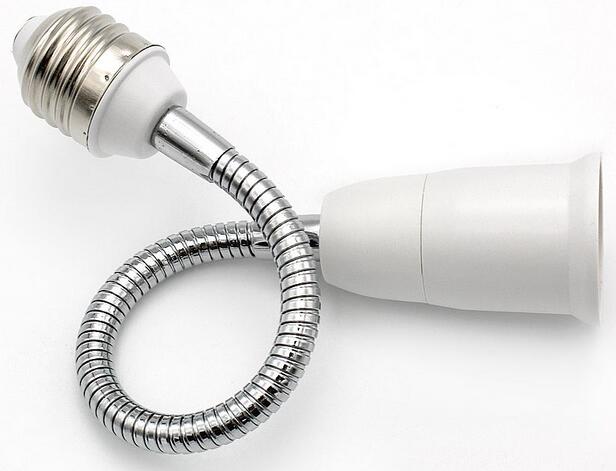 Bulb holder extension Features:
Factory made high quality
Professional made with good performance
E27 to E27 Adapter Converter for LED / Halogen / CFL Light Bulb lamp
Change your E27-to-E27 light bulb socket extension fitting
Made of durable and practical
Small size, light weight, easy to install
LED Halogen CFL Light Bulb Lamp Adapter
It can be connected with light bulbs
Light bulb extension Suitable for all voltage
You can change the bulb\'s lighting angle.
Package Includes:
1 x E27-E27 Lamp Flexible light socket extension Adapter
Led light is not included.
Factory: Yes
OEM: accepted
Payment term: T/T; LC; Western union; PayPal
Delivery time: Samples order 3-5 days; Large order 15-20 working days.
How does E27 to E27 socket extension adapter work?
An E27-to-E27 light bulb socket extension adapter is a device used to extend the length of a standard E27 light bulb socket. It is designed to fit into an existing E27 socket and allow for the connection of another E27 socket.
This is useful in situations where the light fixture is not positioned in the ideal location or if you want to add additional lights to a single fixture. The adapter works by providing a secure and stable connection between the two sockets. It is typically made of high-quality materials to ensure durability and safety.
When using an E27-to-E27 socket extension adapter, it is important to follow the manufacturer's instructions carefully to ensure that it is installed correctly. It is also important to make sure that the combined wattage of the bulbs being used does not exceed the maximum recommended wattage for the fixture.
Failure to do so could result in damage to the fixture, the bulbs, or even a fire hazard. Additionally, it is important to make sure that the bulbs being used are compatible with the adapter and the fixture to avoid any issues with bulb size or shape.
What are the different types of E27 to E27 base adapters available?
There are several different types of E27 to E27 lamp holder socket extension adapters available on the market today. Some of the most common types include straight adapters, angled adapters, and swivel adapters.
Straight adapters are the most basic type and are simply a straight extension of the E27 socket. Angled adapters are designed to allow for the socket to be rotated at an angle to the original fixture, while swivel adapters allow for a greater range of motion and rotation.
Other types of E27 to E27 lamp holder extension adapters include those with built-in dimmer switches, those designed for use with LED bulbs, and those with multiple sockets for connecting multiple bulbs.
When choosing an E27 to E27 light bulb socket extension adapter, it is important to consider the specific needs of your application. For example, if you need to position the bulb at an angle, an angled or swivel adapter may be the best choice.
If you want to connect multiple bulbs, a multi-socket adapter may be the way to go. It is also important to consider the quality of the adapter and to choose one made from high-quality materials to ensure safety and durability.