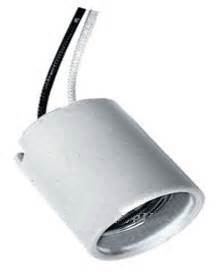 E39 mogul socket Porcelain light socket:
5KV Pulse Rated
600 Volt Max rated
1500 Watt maximum lamp wattage
Leads: 16 Gage, 11″ black and white
Dimensions: 3″ H x 2 1/4″ W
The E39 mogul socket is used in open rated HID lighting fixtures.
Glazed porcelain E39 mogul socket with wireways. Copper alloy, nickel-plated center
contact and lamp-grip screw shell. Stainless steel coil spring under center contact. Two
leads are No.14 AWG 200° 600V glass braid SEW-2, black and white, 11" long,
stripped ½". Two #8-32 captive mounting nuts. Lampholder is cULus listed.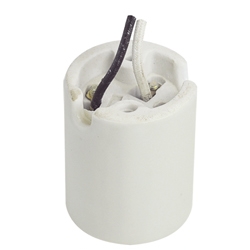 HID E39 mogul socket is made from porcelain and work with open rated metal halide and high pressure sodium lamps. These also have two wire leads for connecting convenience. These are pulse rated for the substantial voltage that is generated for starting the lamps.
European E39 mogul socket provides the ultimate in quality and performance for high intensity discharge (HID) lighting applications. Made from the highest-quality porcelain, the lampholder provides a superior screw shell with lamp grips.