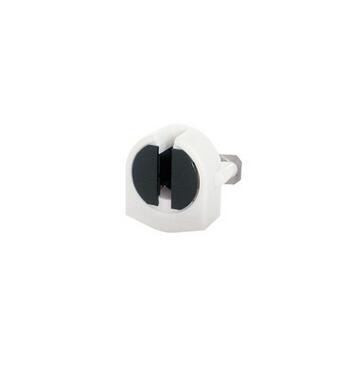 Fluorescent T5 lamp holder with steel
Fluorescent T5 lamp holder / G5 End Fixing for T5 / PC Body / PBT Rotor / Phosphor Bronze Contacts / CE, VDE / 2A 250Vac / T110 / with Stainless Steel Spring / RoHS
Fluorescent T5 lamp holder specification:
MOQ:1,000pcs,
Lead time: 3 days
Lamph older is fire proof,
lamp holders for led fluorescent lamp
Voltage: 110-250V
Electric current:4A
Export standard carton
HS code: 9405920000.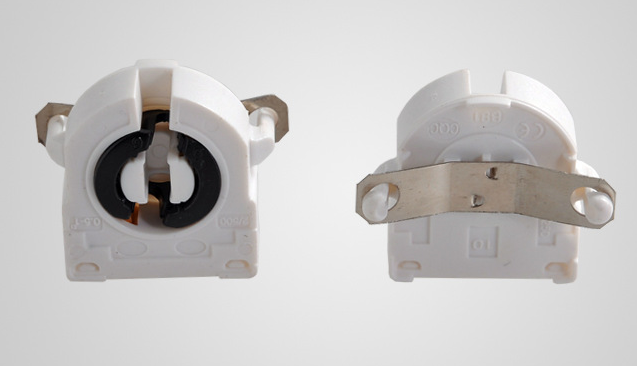 -Push in fixing with locating pin
-PC body, Phosphor bronze contacts
-Wt.11g, Pkg.200pcs
-Rated temperature: T110
-Push wire terminals 2 holes: 0.5-1 mm2/18 AWG.
The linear fluorescent T5 lamp holder continues to grow with the newly introduced T5 series featuring rotary lamp-lock technology and bottom push-in wiring. Our linear fluorescent brochure details the many different mounting, wire insertion and lamp insertion configurations available.
High quality fluorescent T5 lamp holder for end fixing with back spring. Hole centres for mounting are 20.0mm apart for panels with a thickness of 0.6mm to 1.0mm. This T5 lamp holder features push wire terminals for quick installation.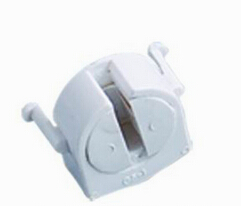 What are the different types of T5 fluorescent tube holders available?
There are several types of T5 fluorescent tube holders available in the market, including rotary locking, snap-in, and slide-on holders. Rotary locking holders are designed to securely hold T5 fluorescent tubes in place, and are often used in industrial and commercial settings. Snap-in holders are easy to install and remove, and are commonly used in residential applications. Slide-on holders are another type of T5 fluorescent tube holder that are easy to install, but require a bit more effort to remove. The type of holder you choose will depend on your specific needs and preferences.
What materials are T5 fluorescent lamp holders typically made of?
T5 fluorescent lamp holders are typically made of a durable and heat-resistant material such as polycarbonate or nylon.
The sockets materials are able to withstand the high temperatures generated by the fluorescent tubes, and are also resistant to damage from chemicals, UV radiation, and physical impact. Some T5 fluorescent tube holders may also be made of metal, such as stainless steel or aluminum, which provides additional strength and durability.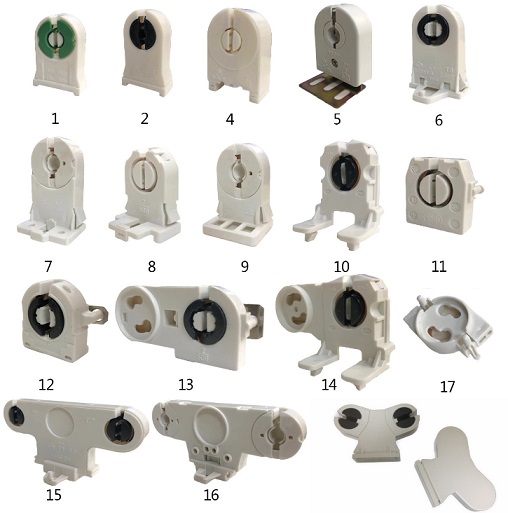 How do you install T5 fluorescent tube sockets?
Base on my experience, Installing T5 fluorescent tube sockets is a relatively simple process that can be done by anyone with basic electrical knowledge.
First, turn off the power to the lighting fixture and remove the old tube and holder.
Next, insert the new tube into the holder and secure it in place according to the manufacturer's instructions. Finally, reconnect the power to the lighting fixture and test the new tube to ensure that it is working properly.
What are some common issues with T5 fluorescent tube holders?
One common issue with T5 fluorescent tube holders is that they can become loose over time, which can cause the tube to flicker or fail. This can be resolved by tightening the holder or replacing it with a new one.
Another issue is that the holder may become damaged or worn, which can also cause the tube to fail. Regular inspection and maintenance of the holder can help to prevent these issues from occurring.