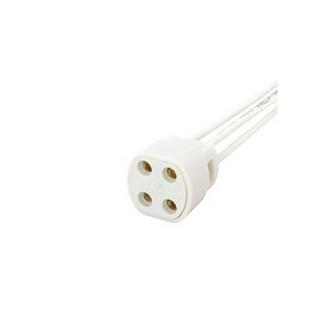 G10q F34 B push on lamp holders socket base

Rigid conductor(-RC)/flexible conductor(-FC)
Without fixing
PC body, brass contacts
Wt.11g(Wire 20cm) Pkg.100pcs
Rated temperature: T110
Push wire terminals 2 holes: 0.5-1 mm2/18 AWG
220v 50HZ or 110v 60HZ.
OEM: Acceptable
excellent quality and competitive price.
The lamp holder allows you to connect a live and neutral wire to one end of the tube.
Caution: to avoid risk of fire make sure your tubes do not exceed the recommended wattage indicated on your light fixture.
Payment Method T/T: 30% deposit, balance before shipment.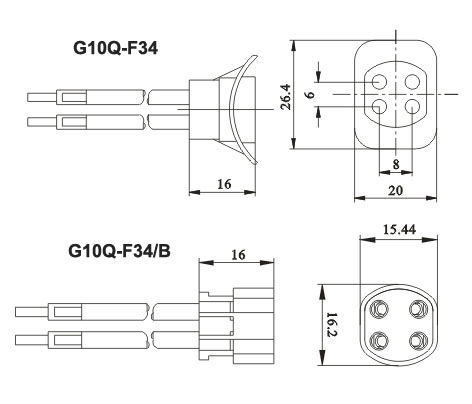 The compact fluorescent lamps (CFL) are a type of bulb which is commonly known for its efficiency for using less power than other commonly used bulbs, whilst still emitting the same amount of lighting.
CFLs have been designed in order to replace the incandescent lamp and can fit into most existing lighting fixtures that may have previously been used for incandescent bulbs.
When you compare the two (CLS and Incandescent) the incentive to use CLS shows due to the lower power usage for the amount of light emitted and its longer life span. Although the CLS bulbs are usually more expensive, in the long run they are also more cost-effective too.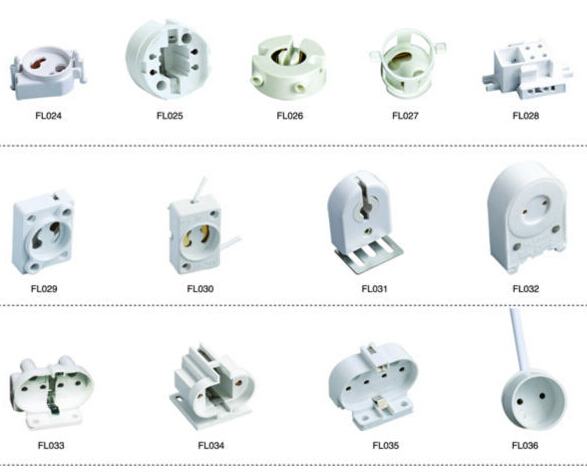 The BI-PIN is a small electronic component, Any base with two metal pins for electrical contact. This is the typical base for a fluorescent tube of 1 to 4 feet in length. It consists of 2 prong contacts which connect into the fixture. Medium bi-pins are used with type T-8 and T-12 tubular fluorescent lamps, and miniature bi-pins are used for tubular T-5 fluorescent lamps.
A G10q F34 lamp holder is an electrical component that is designed to hold a G10q base fluorescent lamp, specifically the F34 size.
The G10q base is a type of four-pin connector that is commonly used for circular fluorescent lamps, and the F34 size refers to a lamp that is 34 inches in length.
G10q F34 lamp holders are typically made from durable materials such as ceramic or high-temperature plastic, and are designed to provide a secure and stable connection between the lamp and the electrical circuit.
The sockets feature four pins that are spaced evenly around the circumference of the base, and are designed to fit snugly into the corresponding slots in the lamp.
Some common features of G10q F34 lamp holders include high-temperature resistance, corrosion resistance, and durability.
The bases are typically designed to withstand the demands of long-term use, and are often used in commercial and industrial applications where reliability and performance are critical.
The specification for a G10q F34 lamp holder will depend on the specific model and manufacturer, but may include factors such as voltage rating, current rating, temperature rating, and overall dimensions.