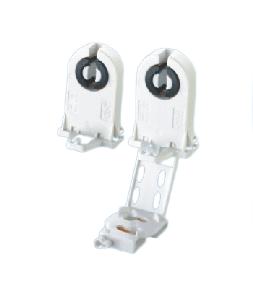 G13 Push through fluorescent LED Tube holders:
With locating pin
Lamp axis:30 mm
PC body, rotor PBT, Phosphor bronze contacts
Weight: 7g/11g, Package: 200pcs
Rated temperature: T130/Tm110
For wall thickness: 0.4-2.0 mm
Push wire terminals 2 holes: 0.5-1㎡.
Single LED fluorescent lamp socket holders
Material: PC / ABS
Rated voltage/current: 250V2A
Working temperature: 220℃
Lamp holder shape: Round, Oval, tombstone.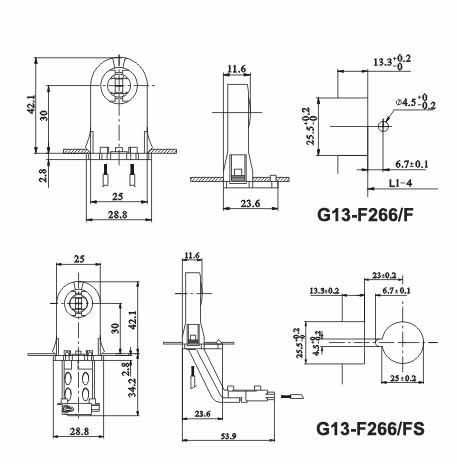 Turn fluorescent lighting fixture sockets T8 (medium Bi-Pin)
HS code: 9405920000
T8 lamp holder is suitable for all kinds of fluorescent light lamp.
All T8 Fluorescent lamp holders should pass 4 quality inspections before loading.
QC Standard: CE, CQC, CUL, VDE, UL, PSE.
What is a G13 fluorescent lamp holder starter?
A G13 push through fluorescent lamp starter is a small device, the sockets used to start fluorescent lamps that use a G13 base. It is inserted into the lamp holder and provides a brief high voltage surge to start the lamp. The starter consists of a small, gas-filled tube with a bimetallic strip inside.
When the lamp is turned on, the starter heats up and the gas inside the tube ionizes, creating a conductive path for the high voltage surge to start the lamp. Once the lamp is started, the starter automatically switches off and the lamp continues to operate on its own.
What are the different types of G13 fluorescent lamp starters available in the market?
There are several types of G13 push through fluorescent lamp starters available in the market, including electromagnetic starters, electronic starters, and LED starters. Electromagnetic starters are the most common type and work by using a magnetic coil to create the high voltage surge needed to start the lamp.
Electronic starters use a small circuit board to generate the high voltage surge, while LED starters use light emitting diodes to create the surge.
The type of starter you choose will depend on your specific needs and preferences. Electromagnetic starters are generally the most cost-effective option, while electronic starters and LED starters are more energy-efficient and have a longer lifespan.
How do I choose the right G13 push through fluorescent lamp starter?
Base on my experience, when you choosing a G13 push through fluorescent lamp starter, there are several factors to consider.
The first is the type of lamp you will be using, as different starters are designed for different types of lamps. You should also consider the voltage and wattage of your lamp, as well as the number of lamps you will be using.
Other factors to consider include the operating temperature and humidity of your application, as well as any specific environmental conditions that may affect the performance of the starter.