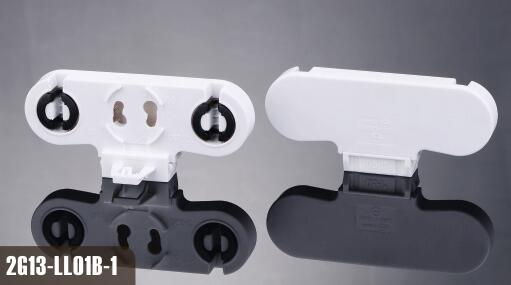 G13 twin fluorescent tube holder for t8 led tubes:
Model 2G13-LL01B-1
Type: T8 fluorescent tube holder
Lamp centre: 23 mm
Push fixing
Power 4-58w
Rated at 500V 2A
Raw material: PC (housing)+Phosphor bronze (Conduct Contact)
Snap in pins with stainless spring
Starter position: at the front
T-Marking: 130
Max. temperature heat-resistance fluorescent lamp holder: T110℃
T8 fluorescent tube holder with leaf spring allows a lamp length tolerance compensation of 3mm.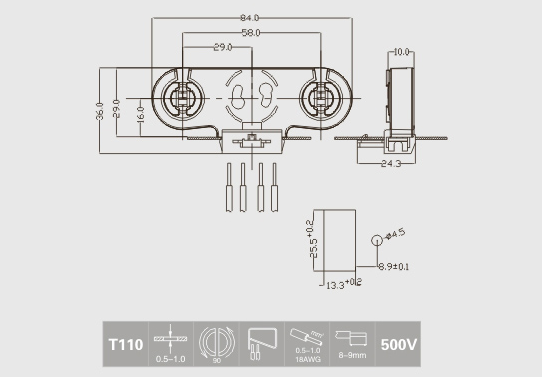 Package Details:
Export standard carton
20pcs every inner packing,
1000pcs/CTN
Carton Meas:44cm×38.5cm×33cm
G.W/N.W.: 8g/6g
Port of loading: Fujian, China.
OEM and ODM are available.
Lead Time: 20 days after received 30% deposit
Payment: T/T, L/C at sight, Western Union
Free samples for one to three pieces, Freight on customers' side
LCL by express, e.g.: FEDEX, DHL, UPS, TNT, etc.
FCL or LCL by ship
HS code: 9405920000.
How does T8 fluorescent tube holder work?
A T8 fluorescent tube holder, also known as a T8 lamp holder or T8 socket, the socket is a device used to hold and connect T8 fluorescent tubes to the electrical system. It consists of a plastic or ceramic base, metal contacts, and a wiring terminal.
The base is designed to fit the T8 tube's pins and provide a secure and stable connection. The metal contacts the pins to establish an electrical connection and provide power to the tube. The wiring terminal is used to connect the holder to the electrical system, typically through a lamp ballast.
When the holder is properly installed and connected, it allows the T8 fluorescent tube to light up and emit a bright, energy-efficient light.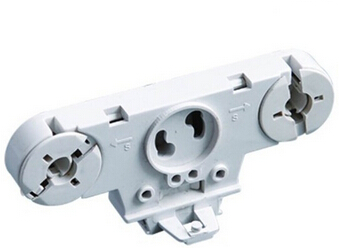 What are the different types of T8 fluorescent tube holders?
There are several types of T8 Twin fluorescent tube holder available on the market. The most common types are shunted and non-shunted holders.
Shunted holders have a metal jumper wire that connects both contacts on each end of the holder, allowing electrical current to flow through the entire fixture. Non-shunted holders, on the other hand, have separate contacts for each pin and require separate wiring for each side of the lamp.
Other types of T8 holders include snap-in and slide-on holders, which differ in their installation method. Some holders also come with features such as rotating ends, allowing for easier installation and adjustment.
How do I choose the right T8 tube holder?
When choosing a T8 fluorescent tube holder, there are several factors to consider.
First, determine whether you need a shunted or non-shunted holder based on your existing fixture and wiring.
Next, consider the size and shape of your T8 tube, as different holders may have varying pin spacing and positioning. It's also important to choose a holder with the correct voltage and wattage rating to match your ballast and tube.
Finally, consider any additional features you may need, such as a rotating end or snap-in installation, to make installation and maintenance easier.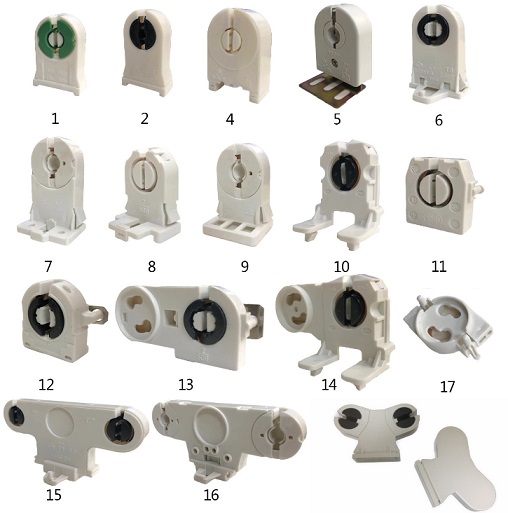 How can I troubleshoot the issues of T8 lamp holders?
Common issues with T8 Twin fluorescent tube holder include loose or corroded contacts, faulty wiring, and broken or cracked bases. To troubleshoot these issues, start by turning off the power to the fixture and removing the tube and holder.
Inspect the contacts for any signs of corrosion or damage, and clean or replace them as necessary. Check the wiring connections for any loose or disconnected wires, and reattach or replace them as needed. If the base is broken or cracked, replace the holder entirely.
When reinstalling the tube and holder, be sure to follow the manufacturer's instructions and secure the holder firmly in place.