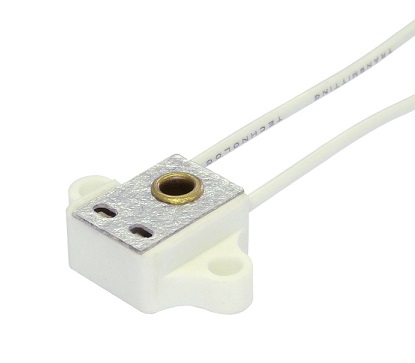 High-quality microscope lamp microscope lamp holder, G4 6v / 12v square light sockets.
Extra Low voltage Miniature Bi-Pin Quartz Lamp holder for halogen lamps G4, GX5.3 and GY6.35, fixed by screws.
A heat resistant ceramic G4 GZ4 GY4 light bulb socket base with M3 hole, which accepts low voltage 2 pin lamps.
M3 screw holes, 10-amp current rating. Accepts G4, GY4 and G24 bases.
G4 ceramic lamp holder base Features:
Termination: Wire Leads
Temperature Rating: T250
Wattage: 100W
Dimensions: 17mm (W) x 28mm (L)
Wire Length: 150mm.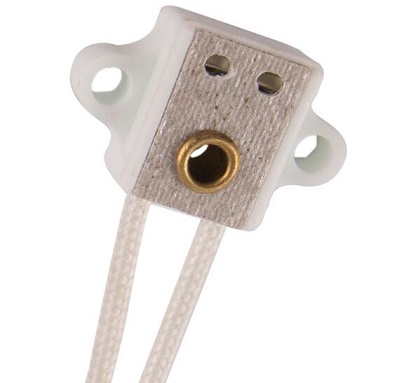 G4 ceramic light bulb socket base with M3 clearance hole fixings. Rated at 4A 25V with temperature rating of T250. Supplied with 200mm 0.75mm2 7599 single insulated Teflon wire (VDE approved), ends stripped to 8mm.
This low voltage G4 lamp holder has a slotted Steatite base and can therefore be used as a G4 lamp socket suitable for G4 bulbs or a GX5.3 lamp holder for MR16 bulbs or GY6.35 bulbs. Rated at 4A 25V and suitable for up to 100W, ideal for use with low voltage halogen and dichroic lamps.
Supplied with 200mm Teflon insulated high temperature wires, stripped to 8mm and suitable for up to 180 degrees Celsius. UL and VDE approvals and RoHS compliant.
Two Hole Mount Rectangular Porcelain Mini Bi-Pin (G5.3/GX5.3/GY5.3) base Halogen Light Socket with 6″/10″/12″ leads, Cross to Leviton #80051
Features:
Ceramic Bi-Pin halogen light sockets
Fits G4, G5.3, GX5.3, & G6.35
Comes with 10″ long 18-gauge wire leads that are rated 200°C
Socket is rated at 100 watts – 250 volts
CE and UL approved.
Porcelain Bi-Pin halogen light socket, fits G4, G5.3, GX5.3, & G6.35, 18AWG 10 Inch silicone/ fiberglass leads, 200°C, rated 100W-250V.
WARNING: Miniature Quartz Halogen Bulbs operate under pressure and high temperatures. To prevent lamp holder damage, the design of the fixture and its application must be carefully considered.
For JAMES warranties to apply to this socket, lamp wattage, current and beam spread must be controlled to ensure that the following temperature limits are never exceeded. At contacts within lamp holder – 225℃ and base lead wires – 200℃.

NOTE: Maximum rating of 250℃ available when appropriately rated leads are used.