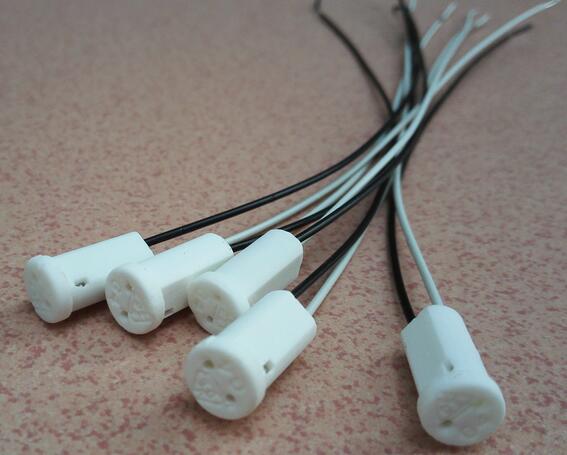 G4 ceramic socket with cable lead ABS head g4 socket
For G4 Halogen lamp crystal light led light Heads.
Body Material: Plastic
Contact Material: Stainless steel
Heat-resisting: T210
Weight:1.4g
Fixing: Snap in fixing
Match G4 Light source.
G4 ceramic socket: G indicates the type of lamp holders are a plug-in, followed by numbers indicate light foot hole center distance of 4mm.
In order for any system to operate at maximum efficiency all of the parts must be in good working order and reliable.
For this reason, International Light Technologies offers a range of lamp holders to complement the lamps we offer.
G4 ceramic sockets are an essential part of a lighting system and the wrong choice can lead to lost power and lamps not working effectively.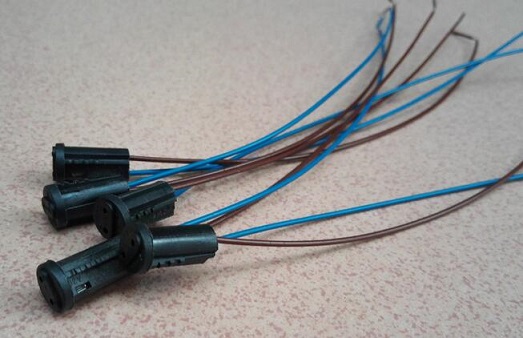 The g4 ceramic socket maximum ratings are listed so you will know if your lamp can be safely installed in each lamp holder.
Please note that the maximum temperatures listed apply both to the wire used and also the ceramic upon which the lamp sits. The temperature at the ceramic will be much higher than along the wire.
Low voltage halogen quartz bulbs, light color rendering property closest to the natural light and has a very good decorative effect, the bulb is fully adapted to the ordinary standard halogen lamp holders and the normal work of the existing mains voltage.
The light bulb has ceramic insulation tube, matched with the lamp inside the cavity formed by the electronic transformer assembly in the lamp with ceramic insulation tube threaded fastening connection, ceramic insulation barrel open vents located outside the outer envelope, the bottom assembly shell.
The utility model can replace existing incandescent bulbs and fit in a standard now widely used in ordinary g4 ceramic socket and lighting fixtures.
Shipping:
1. OEM: accepted;
2. FOB, CIF, CAF, Door to Door;
3. Payment term: T/T; LC; Western union; PayPal;
4. Certificates: CE, RoHS, UL, VDE, ISO9001 Quality System;
4. Delivery Time: 3-7 days for samples; 5-25 days for batch goods;
5. HS CODE: 8536610000
6. MOQ:500pcs
7. Delivery Method:
A. Express: DHL, FedEx, UPS, TNT, Door-to-Door;
B. By air
C. By sea.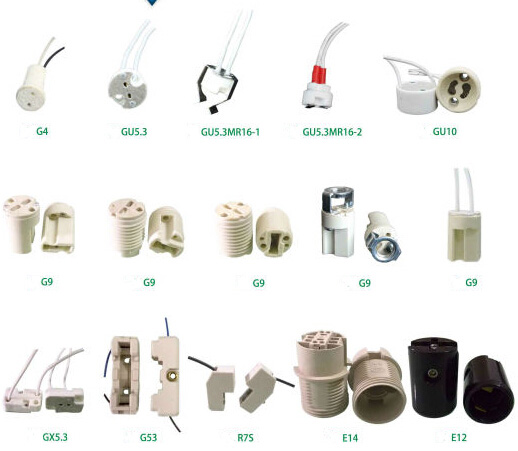 FAQ:
What is the voltage rating of G4 Ceramic Sockets?
Answer: Typically, it is rated for 12V or 24V AC/DC.
Can G4 Ceramic Sockets be used with LED bulbs?
Answer: Yes, it can be used with compatible LED bulbs.
Is G4 Ceramic Socket suitable for outdoor use?
Answer: Yes, it can be used for outdoor applications if it is rated for outdoor use and is installed in a protected location.
What is the temperature rating of G4 Ceramic Sockets?
Answer: It can vary but is generally rated for temperatures up to 200°C.
What materials are used to make G4 Ceramic Socket?
Answer: It is typically made of ceramic or plastic.
Can G4 Ceramic Socket be used in landscape lighting?
Answer: Yes, it is a popular socket type for landscape lighting fixtures.
What is the difference between G4 and G9 socket types?
Answer: G4 has a two-pin bi-pin base, while G9 has a two-pin looped base.