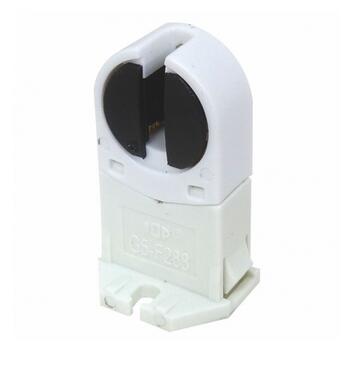 G5 Fluorescent Lamph older T5 lamp socket G5-F288
T5 lamp socket/ G5 Push Through & Surface Mount Fixing / 25mm Lamp Axis for Push Through Mounting / 27.5mm Lamp Axis for Screw in Surface Mounting / Panel Cut Out 10mm x 20mm / PC Body / PBT Rotor / Phosphor Bronze Contacts / CE, VDE / 2A 250Vac / T110 / RoHS
T5 lamp socket fluorescent tube holder G5:
Push through/surface mounted T5 lamp socket:
-Snap in/screw fixing foot
-Lamp axis:25/27.5mm 15.8/18.7mm
-PC body, Phosphor bronze contacts
-Wt.4/3.5g Pkg.500pcs
-Rated temperature: T110
-For wall thickness: 0.6-1.2 mm
-Push wire terminals 2 holes: 0.5-1 mm2
Packaging & Delivery:
Packaging Details: 44*38.5*33/carton
Delivery Detail: Within 10 days after payment.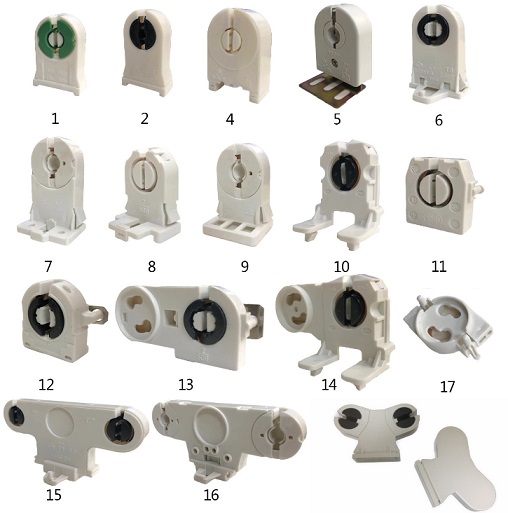 T5 lamp socket Specifications:
housing: PC
rotor: PBT/PC
contacts: phosphor bronze.
What is a T5 lamp holder socket?
A T5 lamp holder socket is a device used to hold and connect a T5 fluorescent tube to an electrical circuit. It is commonly found in lighting fixtures such as troffers, high bays, and under-cabinet lights.
The T5 lamp holder socket typically consists of a plastic or ceramic base with metal contacts that grip the pins of the T5 tube. The socket is wired to an electrical ballast that provides the necessary voltage and current to power the lamp.
What are the different types of T5 lamp holders?
There are several types of T5 lamp holder sockets, including bi-pin, single pin, and miniature bi-pin. Bi-pin sockets are the most common type and are designed to hold T5 tubes with two pins on each end. Single pin sockets are used for T5 tubes with a single pin on each end, and miniature bi-pin sockets are used for smaller T5 tubes. Additionally, T5 lamp holder sockets may be designed for either shunted or non-shunted applications, depending on the type of ballast being used.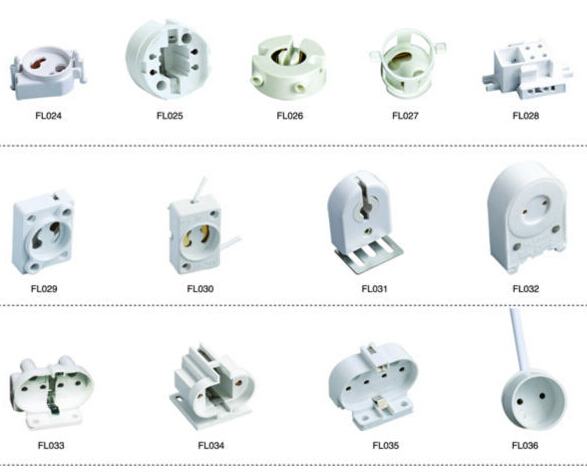 How do I install a T5 lamp socket?
To install a T5 lamp holder socket, first turn off the power to the fixture. Then, remove the old socket (if applicable) by gently pulling it out of the fixture. Insert the new socket into the fixture, ensuring that the pins are properly aligned with the slots in the socket. Finally, connect the wiring from the ballast to the socket according to the wiring diagram provided with the fixture or ballast.
What should I consider when selecting T5 lamp holders?
When selecting a T5 lamp holder socket, consider the type of T5 tube being used, the wattage and voltage of the lamp, and the type of ballast being used. It is important to select a socket that is compatible with the specific lamp and ballast being used to ensure proper operation and avoid damage to the lamp or fixture. Additionally, consider the quality of the socket, as higher quality sockets are less likely to fail or cause problems over time.
What are some common issues with T5 lamp sockets?
Based on my experience, Common issues with T5 lamp holder sockets include loose connections, damage to the pins or contacts, and failure of the socket or ballast. Loose connections can cause flickering or intermittent operation of the lamp, while damage to the pins or contacts can prevent the lamp from operating at all.
Socket or lamp ballast failure can result in complete failure of the fixture or even a safety hazard if not addressed promptly.
To avoid these issues, it is important to properly install and maintain T5 lamp holder sockets and to promptly address any problems that arise.