Porcelain Gu 5.3 base socket with leads for LED & halogen lamps
Name: Gu5.3 base sockets
Body: Steatite
Heat Resistance:200℃
Rating: 250V 100W
(Division I can provide a different height of the bracket for the guests to choose, wiring can be based on customer requirements)
Color: White
Voltage & Current:25V 4A
Silicone wave or Teflon wire :2X15cmX0.5mm2
Material: Porcelain body, metal fitting
Usage: For the lighting accessories.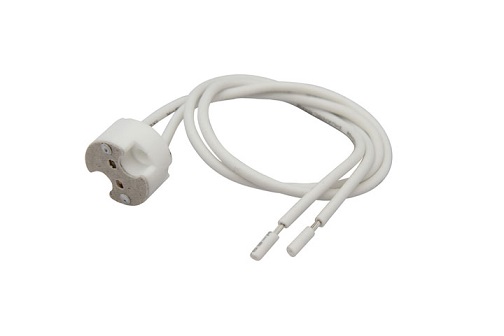 Gu 5.3 base socket Packaging Details:
usually export standard saving packing :100PCS/bag,250PCS/inner box,
QTY: 1000 PCS
NW.:8 KGS
GW.:9.5 KGS
MEAS:39.5*19*27.5 CM
Also, according to the customer, it is demand to decide packing.
Gu 5.3 base socket is suitable for all kinds of ceiling lighting fitting.
QC Standard: IEC & ANSI & GB & DIN & BS & AS & SA.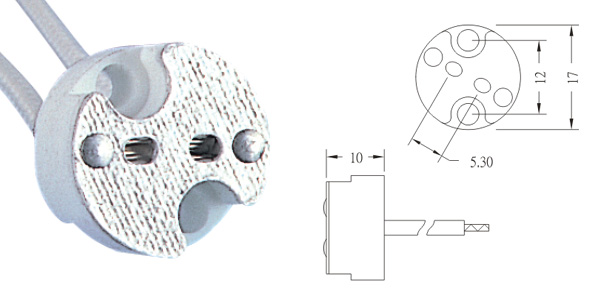 MR16 lamp cup is a multi-reflecting surface, for halogen replacement LED spotlights, we also used to call it is MR16, E27, E14, GU10 lamp holder with respect to said, as the two-pin the distance between the Gu 5.3 base socket, so some people call it G5.3.
Gu 5.3 base socket: refers to the maximum outer diameter of 2 inches with a multi-faceted reflector lamps in the lighting industry, lighting models of letters and numbers.
The number indicates the size of the largest bulb shape in multiples of 1/8 inch. "16" means that the lamps maximum diameter size is 2 inches. Generally common in our lives lamp cup, spotlights most are using this lamp, the majority of low-voltage (12V, 24V, 36V, etc.) lamps with MR16.
Shipping:
1. OEM: accepted;
2. FOB, CIF, CAF, Door to Door;
3. Payment term: T/T; LC; Western union; PayPal;
4. Certificates: CE, RoHS, UL, VDE, ISO9001 Quality System;
4. Delivery Time: 3-7 days for samples; 5-25 days for batch goods;
5. HS CODE: 8536610000
6. MOQ:500pcs
7. Delivery Method:
A. Express: DHL, FedEx, UPS, TNT, Door-to-Door;
B. By air
C. By sea.

What are the most common applications for Gu5.3 base sockets?
Gu5.3 base sockets are widely used in the lighting industry for low-voltage lighting applications. They are typically used with halogen or LED MR16 bulbs, which are commonly found in track lighting, recessed lighting, and landscape lighting systems.
Gu5.3 light bulb sockets are preferred over other socket types for these applications because they provide a secure connection and can handle the high temperatures generated by these types of bulbs. Additionally, they are easy to install and are compatible with a variety of mounting configurations.
How do I choose the right Gu 5.3 base socket for my application?
When you selecting Gu 5.3 base sockets, there are several factors to consider.
First, it is important to choose sockets that are compatible with the bulbs being used in the application. This means selecting sockets with the correct wattage and voltage ratings for the bulbs.
Then, Gu5.3 base sockets are available in various mounting configurations, including surface-mount and through-hole mount options. The mounting configuration chosen will depend on the specific application and the mounting requirements of the fixture.
Finally, it is important to consider safety and compliance when choosing Gu 5.3 base sockets. Look for sockets that are UL-listed or CE-certified to ensure that they meet relevant safety and regulatory standards.

What are the most common problems associated with Gu 5.3 bi-pin sockets?
The most common problems associated with Gu 5.3 base sockets include poor connections, socket burnout, and socket overheating. Poor connections can result from loose or corroded socket contact, which can cause flickering or intermittent operation of the bulb.
Socket burnout can occur when the socket is used with a bulb that exceeds the maximum wattage or voltage rating, which can cause the socket to overheat and fail. Socket overheating can also occur if the socket is exposed to high temperatures or if it is installed in a location with poor ventilation.