GU 5.3 socket GY6.35 porcelain Lamp Holder
Inquiry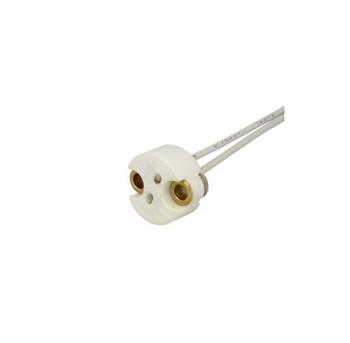 GU 5.3 socket GY6.35 porcelain Lamp Holder
High quality GU 5.3 socket / GY6.35 ceramic lampholder with M3 clearance hole fixings. Rated at 10A 50V with temperature rating of T250. Supplied with 350mm 0.75mm2 7599 single insulated Teflon wire (VDE approved), ends stripped to 8mm.
GU 5.3 socket Features
Fixing M3 Screw
Termination Wire Leads
Current Rating 10A
Temperature Rating T250
Wire Length 350mm
General default MR16 is GU 5.3 socket, insert two pins. GU5.3 refers twisted thin hanging twisted kind of lamp holders.Current MR16 halogen lamp holder, whether or GU 5.3 socket can be made high and low pressure, because it has a relationship with the lamps inside the drive.GU5.3 lamp base for low pressure, but there are many customers to be GU 5.3 socket made.
This low voltage GU 5.3 socket has a slotted Steatite base and can therefore be used as a GU 5.3 socket suitable for MR16 bulbs or a GY6.35 lamp holder. Rated at 10A 50V and suitable for up to 100W, ideal for use with low voltage halogen and dichroic lamps. Supplied with 350mm Teflon insulated high temperature wires, stripped to 8mm and suitable for up to 180 degrees Celcius.
GU 5.3 socket Suitable for MR16 and GY6.35 bulbs.
Related Items