Features:
Socket type: GU10
Voltage: 220-240V
Wattage: up to 50W
Material: Ceramic
Easy to install and replace bulbs
Compatible with a variety of decorative fixtures
Provides a secure connection between the bulb and the fixture.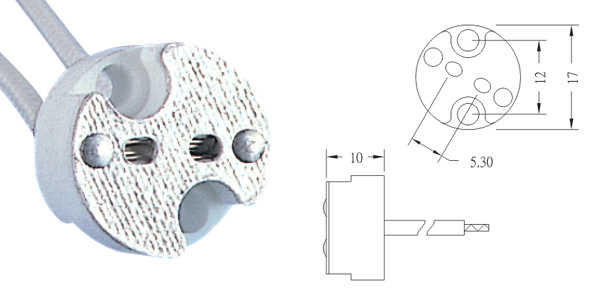 A GU10 light bulb socket is a type of lamp holder designed to hold GU10 bulbs, which are commonly used in track lighting, recessed lighting, and other decorative fixtures. The GU10 socket has a bi-pin base that locks the bulb in place, making it easy to install and replace.
Gu10 led light bulb socket base holder with wire European GU10 low voltage lamp holder and lead sets.
Ceramic push in lamp holder.
Suitable for use with low voltage downlights
Available in a range of lead lengths
Silicon insulated leads are crimped to lamp holder terminations.
Gu10 led light bulb socket base holders with wire are manufactured to the highest possible standards making them an ideal item for use with any type of GU10 bulbs. The Ceramic lamp holder uses high quality wire to ensure they never fail on you and they are fully heat protected which makes them perfectly safe.
These Gu10 led light bulb socket base holders with wire meet all UK safety regulations (CE and Rohs) and we offer a one-year guarantee to any customer whom purchases any item from us.
G or Bi-pin light bulb base and sockets.
The "G" base type of lamp and light bulb is used to designate a "pinned" base. This can include several pin types and different numbers of pins.
Designation is by letter(s)-numbers-optional letter: The first letters include "G" followed by an optional U, X, Y or Z. Next is a number that designates the number of millimeters between the center of each pin. Finally, the optional final letter designates the number of pins, no letter implies 2 pins as does a d for double.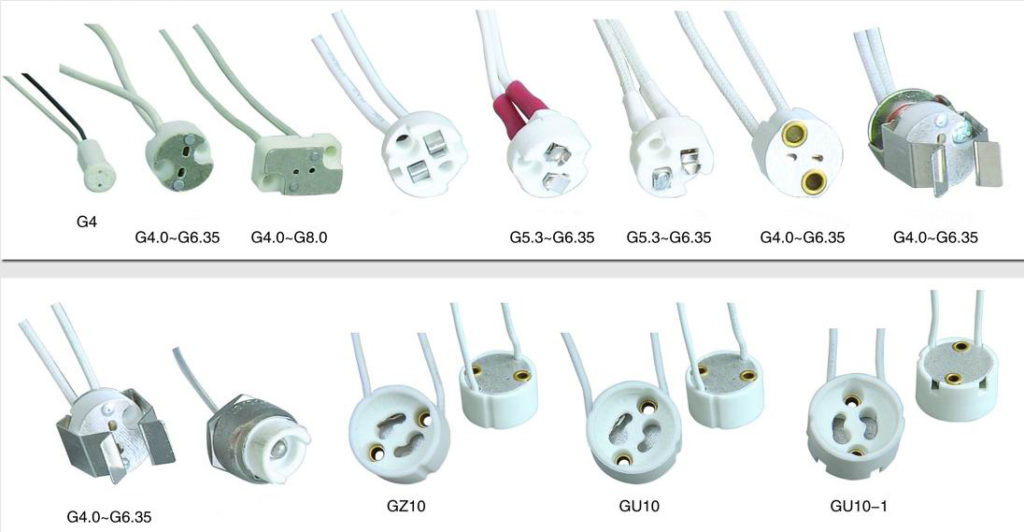 Examples include: GU10 base (Ceramic lamp fitting for standard GU10 bulb
Suitable for LED, CFL and Halogen Gu10 led light bulb socket base holder with wire to fit any GU10 bulb into a hard wire system.
It allows you to plug in your LED, CFL or Halogen bulb, and attach it to the normal lighting wire.
Shipping:
1. OEM: accepted;
2. FOB, CIF, CAF, Door to Door;
3. Payment term: T/T; LC; Western union; PayPal;
4. Certificates: CE, RoHS, UL, VDE, ISO9001 Quality System;
4. Delivery Time: 3-7 days for samples; 5-25 days for batch goods;
5. HS CODE: 8536610000
6. MOQ:500pcs
7. Delivery Method:
A. Express: DHL, FedEx, UPS, TNT, Door-to-Door;
B. By air
C. By sea.
How does GU10 light bulb socket work?
GU10 light bulb sockets typically feature ceramic or plastic insulation to protect against electrical shock and heat, and can be used in a range of applications, including track lighting, recessed lighting, and landscape lighting.
To use a GU10 socket, simply insert the pins of the light bulb into the corresponding slots on the socket and turn the bulb clockwise until it clicks into place. The socket should be securely mounted in a fixture or housing, and the bulb should be the appropriate wattage for the application to ensure safe and effective use.
Regular cleaning and maintenance of the socket can also help to ensure proper function and prevent damage or failure.
What are the different types of GU10 light bulb sockets available?
There are several types of GU10 light bulb sockets available, each with their own unique features and benefits. Some common types include:
Ceramic sockets: These sockets are made from heat-resistant ceramic materials and are ideal for high-temperature applications. They are often used in industrial or commercial settings where heat resistance is important.
Plastic sockets: Plastic sockets are lightweight and easy to install, making them a popular choice for residential applications. They are also less expensive than ceramic sockets and are available in a range of colors to match different fixtures.
Weatherproof sockets: Weatherproof sockets are designed to withstand exposure to moisture and other environmental factors. They are often used in outdoor lighting applications or in areas where moisture or humidity is a concern.
Dimmable sockets: Dimmable sockets are designed to work with dimmer switches, allowing you to adjust the brightness of your lighting to suit your needs. They are often used in living spaces, bedrooms, and other areas where variable lighting is desired.