GU10 socket with box mounting bracket Heat Resistant Cable
Inquiry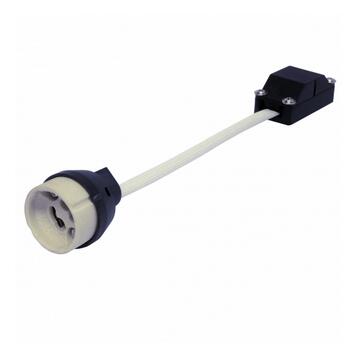 GU10 socket with box mounting bracket Heat Resistant Cable
GZ10 / GU10 socket Ceramic Lamp holder / 2A 250Vac / T250 / 100W / 180mm 0.75mm2 Single Insulated Silicone Wire (VDE) with Second Heat Resistant Outer Sheath / Supplied with Terminal Block for Connection / T250 Degrees.
GU10 socket can use for with our LED or halogen lamps.
Ceramic Lamp Holder fitting for standard GU10 lamp With mounting junction boxes
Use this to fit any GU10 bulb into a hard wire system
GU10 socket diameter: 27mm
Wire Length: 15cm(approx)
Lamp holders type: GU10
Weight:45g
Color: white
Max. wattage rating: 100W
Max. voltage: 240V.
Wire material: silicone
Wire length: About 15cm
Socket diameter: 17mm
Wire Length: 15.0cm
Wiring:. 0.5mm2 or 0.75mm2 standard silicone wire (VDE) length 15cm * 2 with ground
High quality ceramic GU10 socket supplied with 180mm silicon wire and fire resistant sleeve outer jacket. This GU10 socket is also supplied with a removable terminal block that can be used if desired for easy connection into an existing lighting circuit. The cable is secured into the GU10 light socket with a strain relief gland to prevent accidental removal of the electrical wires.
The overall length of the complete assembly is 200mm measured from the light bulb socket to the end of the terminal block.
Compliant with the new regulations. Rated at 2A 250Vac. Suitable for new installations and for replacement of existing lamp holders for lamps up to 100W.
Related Items