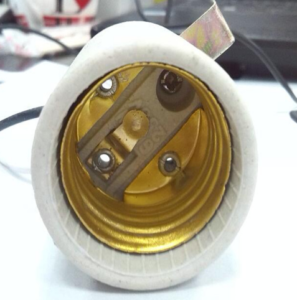 How to wire e27 lamp holder? There are a few things to remember when wiring ES or E27 lamp holder and here we will try to give you some help. Screw type lampholder normally come in 3 parts, the cap or bottom part, the centre part or connection for the wires and the skirt or top part. There will be several different styles but the principle will always be the same.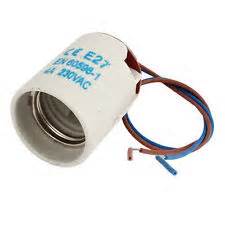 With all screw type lamp holder its important to connect the live wire (Brown) to the centre pin of the light bulb socket. The best way to do this is to find the centre pin, follow the metal back to the point it connects to the screw terminal on the other side. This is the Live terminal.
E27 lamp holder base: The Spiral Lamp holders code, the letter E represents Edison threaded screw base, "E" after the digital representation of the integer value thread diameter lamp, spiral lamp and lamp holder with threaded.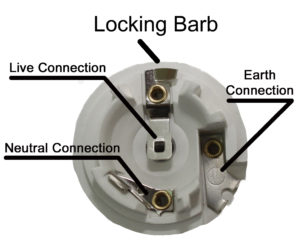 E27 lamp holder Feature:
1.high quality
2.E27 to GU10 Led lamp Bulbs Adapter Converter.
3.For LED/Halogen/CFL Light Bulb Lamp Adapter
4.High temperature resistant
5.This works great to adapt LED Lights to E27 candelabra screw light bulb sockets.
6.Suitable for all voltage (This product is only socket converter, it does not convert electrical voltage)
If you have a metal lamp holder there will also be an earth connection with will be the sprung piece that touches the side of the light bulb socket skirt and this must have the Green/Yellow wire connected in all cases.The Neutral terminal or Blue wire will then connect to the other screw connection which bakes connection to the side of the light bulb.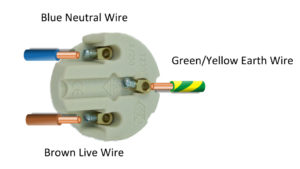 Please also note that all screw lampholders have a barb method or latch to lock the skirt in place. Please see this document for more information on this.
Below is an example of wiring to a E27 Brass lamp holder in one of our kits. This shows a E27 lamp holder fitted to a jar lid with the connection part wired and a cord grip on the left.
Strip about 10mm and twist the wire so it makes a more solid wire. Then fold this in half before inserting into the terminal.