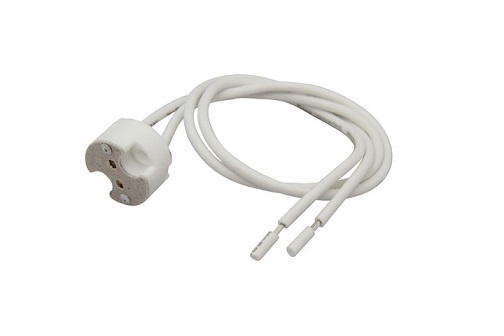 Halogen Light bulb bases ceramic lamp holder with leads specifications:
Main material:Ceramic
color:white or beige
Cable kinds:silicone or teflon or braided or high temperature cable
Cable sizes:0.5mm2 or 0.75mm2 or 1mm2
Cable color:White or black or red/brown
Rating:25-250V,100W
Certificate:CE, RoHS
Others fittings:bracket,back plate,sleeve,terminal block,terminal etc
MOQ:1000pcs
Delivery:15-30 days after receive deposit
Halogen Light bulb bases ceramic lamp holder with leads G4/G5.3 Base MR16 Lamp 12V : Use this wire connector socket to fit any MR16 or MR11 bulb into a hard wire system. It allows you to plug in your LED, CFL or halogen bulbs and attach it to normal lighting wires.
(12v) 2-pin halogen lamps. Each pin contact in the socket consists of 2 C-shaped halves that are spring-loaded to hold the pin.
A Light bulb base, also known as the Edison screw fitting, is a threaded screw base used to hold and connect a light bulb to a power source. Invented by Thomas Edison and marketed in 1909, these sockets typically have right-hand threads, which allow the light bulb to be screwed in clockwise and removed counterclockwise. To deter theft in public places, the threads are sometimes reversed to prevent installation in common light fixtures.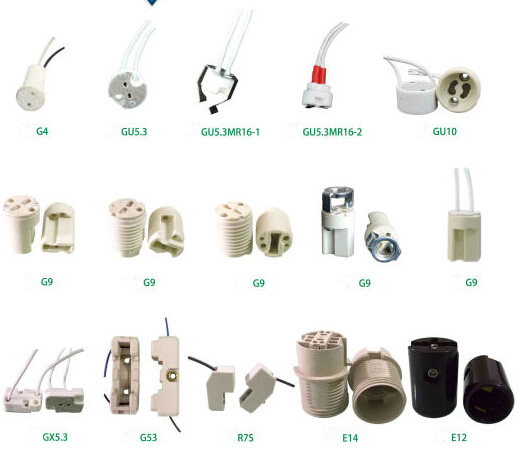 Most standing lamps consist of a body, a base where the cord enters, a harp to support the shade, and a socket, which receives the cord at one end and the lightbulb at the other. The cord usually runs through a hollow threaded rod from the base to the socket.
When a lamp won't work and you know the bulb is OK, check the cord for damage. If the insulation is worn and cracked, replace the entire cord (see Rewiring Lamps, Related Projects). If the cord is OK, the problem is most likely in the socket.
Most lamps have felt bases that must be removed before repairing the lamps. Remove the felt by paring it off with a utility knife. After the repair, reapply the felt with white glue.