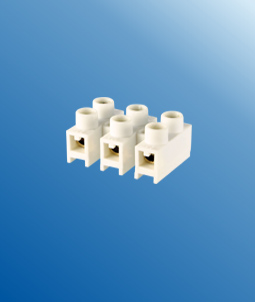 Low Voltage PCB 100 Amp Plastic Spade Screw Terminal Block

Screw terminals 2-12 poles Screw fixing
Without marking
PA/PC/PP body, Copper terminals
Weight.25g/33g,
Package.100/50pcs.
FAQ:
What is a terminal block and how does it work?
Terminal blocks are connectors that allow wires to be connected together in an organized manner. They work by clamping down on wires with screws or other types of connectors.
What are the different types of terminal blocks?
There are many different types of terminal blocks, including barrier, screw, push-in, and pluggable blocks. Each type has its own unique features and benefits.
How do I choose the right terminal block for my application?
Consider factors such as voltage, current, wire size, and environmental conditions when choosing a terminal block. It is also important to select a block that is compatible with your wire termination method.
What are the advantages of using terminal blocks?
Terminal blocks offer several advantages, including easy installation, maintenance, and troubleshooting. They also provide a secure and organized way to connect wires.
What is a DIN rail and how does it relate to terminal blocks?
A DIN rail is a standardized metal rail used to mount terminal blocks and other electrical components in a control panel or other enclosure. Terminal blocks are often designed to be mounted directly onto DIN rails.
How do I wire a terminal block?
Wiring a terminal block involves stripping the wire insulation, inserting the stripped end into the block, and tightening the screw or other connector to secure the wire.
What is a fused terminal block and when should I use one?
A fused terminal block includes a built-in fuse that can protect connected devices from overcurrent or short circuit conditions. They are useful in applications where protection is critical.
How do I maintain and troubleshoot terminal blocks?
Maintenance for terminal blocks involves periodically checking for loose connections and corrosion. Troubleshooting may involve checking for continuity or using a multimeter to test for voltage.
Can terminal blocks be used in hazardous locations?
Yes, some terminal blocks are designed for use in hazardous locations and are rated for explosion-proof or intrinsically safe use.
What are the common materials used for terminal blocks?
Terminal blocks can be made from a variety of materials, including plastic, ceramic, and metal. The material used depends on the specific application and environmental conditions.
What is a modular terminal block and how does it work?
Modular terminal blocks are designed to be easily snapped together to create custom configurations. They typically include features such as multiple levels, pluggable connectors, and built-in diodes or fuses.