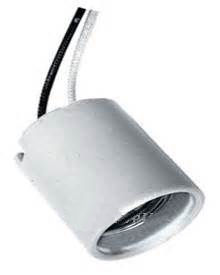 Mogul e39 socket Porcelain Sockets.
5KV Pulse Rated
600 Volt Max rated
1500-Watt maximum lamp wattage
Leads: 16 Gage, 11″ black and white
Dimensions: 3″ H x 2 1/4″ W
The mogul e39 socket is used in open rated HID lighting fixtures.
Kinds: lamp holder / mogul e39 socket
Style: screw
Maim Material: porcelain body, metal electric conduction
Metal: iron, aluminum alloy, brass, red copper
Current, voltage: 250V 4A
Min Quantity: 5000 pieces。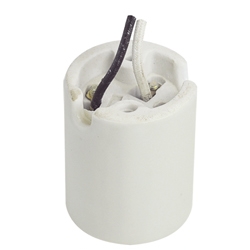 Mogul e39 socket features:
– Lamp Socket Base: Mogul
– Construction: One-Piece
– Material: Ceramic or Porcelain
– Lamp Type: HPS or open rated metal halide up to 1000W
– Circuit: Single Circuit
– Access: Back Wired
– Wattage Rating: 1500W
– Voltage: 600 Volt
– Termination: 16-Inch 14GA SEW-2 200C Leads
– Feature: 5KV-Pulse Rated
– HID mogul base sockets for open rated HID lamps
The EX39 mogul-based size lamp sockets are used in open rated HID lighting fixtures.
The lamps most commonly used in the hobby are single-ended, with a screw-type mounting base. The size of the base and the threads is also described by a code, although names are more commonly used. For example, Base – E39 is commonly called a mogul socket.
European lamps also have a mogul base, but it is slightly different from the E-39 And is called E40. The differences are small enough that the E40 base lamps will work finein the typical E39 mogul base used in the U.S. Double-ended 150-watt lamps use the RSC(RX7s) base, while the 250-watt double-ended lamps use the Fc2 base.
An ex39 mogul base socket is a type of electrical socket commonly used in high-wattage lighting applications, such as streetlights or stadium lighting. It has a large screw base and can accommodate bulbs with a maximum wattage of up to 1000 watts.
Description:
The ex39 mogul base socket is designed to provide a reliable and durable connection for high-wattage lighting applications. Its large screw base ensures easy installation and secure bulb retention, while its high wattage capacity allows for powerful illumination.
The EX39 base is constructed from ceramic or porcelain materials, which provide excellent heat resistance and durability.