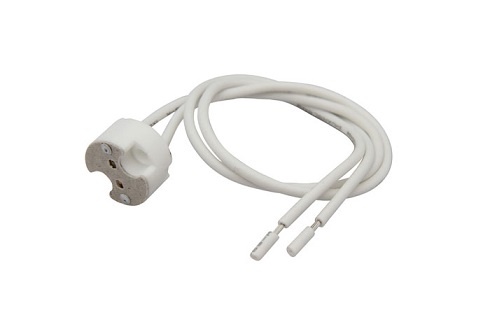 Mr16 socket with leads with 15cm cord for LED & halogen lamps
Type: G5.3 plug in
Electric current: 2A 100W
Voltage: 250V
5KV T250
Weight (Kg): 0.02
Cable chooses: silicone, braided, Teflon, high temperature resistant
Available cord: 0.3 / 0.5 / 0.75 / 1mm2
Main material: Radio ceramic
Contact: Nickel-plated copper.
General default Mr16 socket with leads is gu5.3 the lamp holders, insert two pins. Current halogen MR16 socket, GU10 lamp holder, whether or mr16 lamp holder, can be made high and low pressure, because it has a relationship with the lamps inside the drive. The mainstream the GU10 lamp holder for high pressure; Mr16 socket with leads for low pressure, but there are many customers to be G5.3 lamp base made.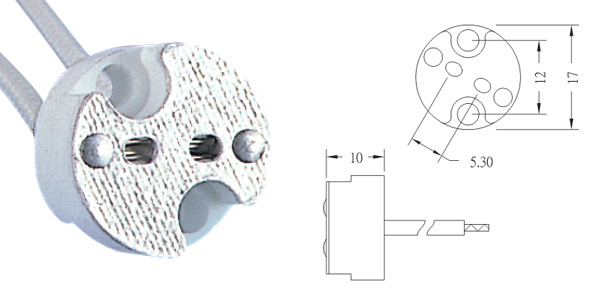 This low voltage Mr16 socket with leads has a slotted Steatite base and can therefore be used as a Mr16 socket with leads suitable for MR16 bulbs or a GY6.35 lamp holder. Rated at 10A 50V and suitable for up to 100W, ideal for use with low voltage halogen and dichroic lamps. Supplied with 350mm Teflon insulated high temperature wires, stripped to 8mm and suitable for up to 180 degrees Celsius.
MR16 LED bulbs are an energy efficient way to replace MR16 halogen lights. 12v LED MR16 bulbs are also available in a wide range of beam angles including MR16 LED spot lights and MR16 LED flood lights. The 2W LED SMD MR16 offers a beam angle of over 160 degrees for a very wide LED floodlight beam. The narrowest MR16 LED beam angle we offer is 15 degrees. Other beam angles include 30, 38, 50, 60, 72, and 160 degrees.
Shipping:
1. OEM: accepted;
2. FOB, CIF, CAF, Door to Door;
3. Payment term: T/T; LC; Western union; PayPal;
4. Certificates: CE, RoHS, UL, VDE, ISO9001 Quality System;
4. Delivery Time: 3-7 days for samples; 5-25 days for batch goods;
5. HS CODE: 8536610000
6. MOQ:500pcs
7. Delivery Method:
A. Express: DHL, FedEx, UPS, TNT, Door-to-Door;
B. By air
C. By sea.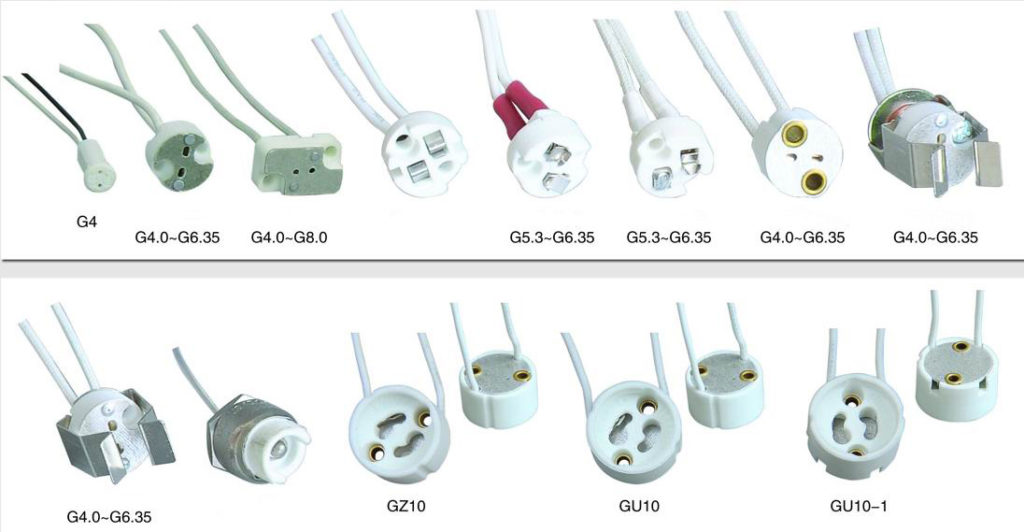 What is the maximum watt of Mr16 sockets can handle?
A Mr16 light bulb socket is designed to work with low-voltage MR16 bulbs, which typically come in 12-volt or 24-volt versions. The maximum wattage that a Mr16 light bulb socket can handle depends on the voltage of the bulb being used.
For a 12-volt MR16 bulb, the maximum wattage is usually around 50 watts. For a 24-volt MR16 bulb, the maximum wattage can go up to around 75 watts.
What is the difference between a ceramic and a plastic Mr16 socket?
Ceramic and plastic are the two most common materials used to make Mr16 sockets with leads. Ceramic sockets are typically more durable and heat-resistant than plastic sockets, making them a better choice for high-wattage bulbs or bulbs that generate a lot of heat.
Ceramic sockets also tend to have a longer lifespan than plastic sockets.
However, ceramic sockets can be more expensive than plastic sockets, and they may not be suitable for all types of lighting applications. Plastic sockets are generally more affordable and are suitable for low-wattage bulbs or applications where heat generation is not a concern.
Can a Mr16 bulb socket be used with LED bulbs?
Yes, a Mr16 light bulb socket with leads can be used with LED bulbs. LED bulbs are designed to work with the same voltage as traditional MR16 bulbs, so they can be used interchangeably in the same socket.
What are some common issues with Mr16 sockets, and how can they be fixed?
Common issues with Mr16 light bulb sockets with leads include loose connections, damaged wires, and burned-out sockets. If the connection between the wires and the socket is loose, it can cause the bulb to flicker or not turn on at all.
The socket can be fixed by tightening the connections or replacing the socket if it is damaged. If the wires are damaged or frayed, they should be replaced to ensure safe and reliable operation. Burned-out sockets can be replaced with a new socket of the same type.