Full range of high-quality Mr16 light sockets, our range includes many types of Mr16 lamp holders: with junction box, mounting bracket, plug, leads, connection box, springs, stainless steel clips, etc. Most items carry full approvals of UL, SAA and CE.
Custom-made Mr16 sockets are our strength, customizing a lamp holder can meet your particular lighting needs. So, feel free to contact us!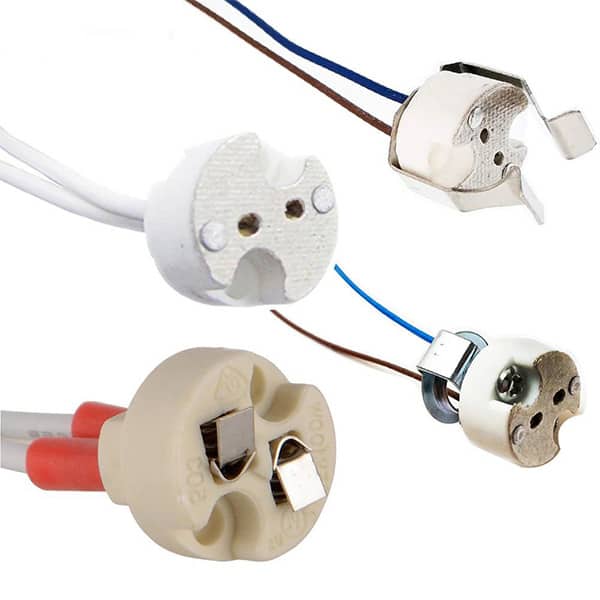 REQUEST A QUOTE FOR MORE DETAILS
All You Need to Know About MR16 Light Sockets
MR16 lamp sockets: "MR" means Multifaced reflect, many sided reflections (cup), "16" means bulb caliber (the unit is 1 / 8 inch), the caliber of MR16 socket:16×1/8=2 inch≈50mm.
"MR" is the push-in lamp holder, two pins, usually use for the halogen lamps and led lamps, it's very convenient to install.

Mr16 light bulb sockets are a type of electrical connector that is specifically designed to hold and power Mr16 light bulbs.
Mr16 bulbs are low-voltage, halogen lamps that are commonly used for accent lighting, track lighting, and other applications where precise and directional lighting is needed.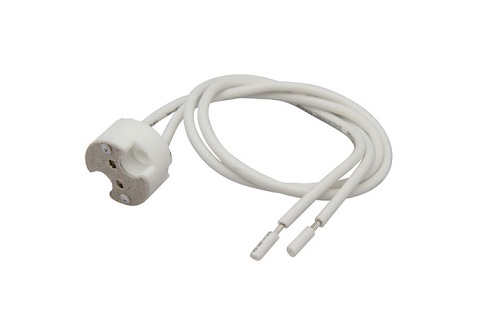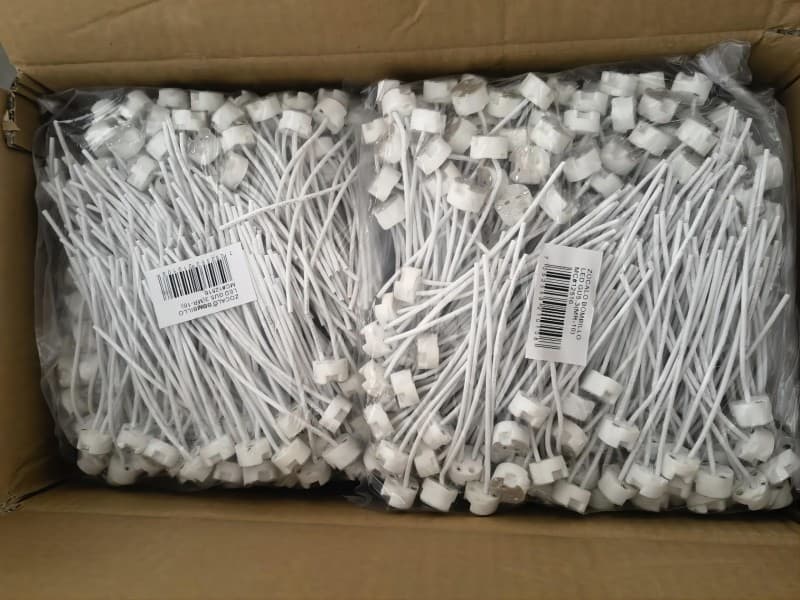 Porcelain MR16 socket with 15cm cord for LED & halogen lamps
Type: GU5.3 plug in
Electric current: 2A 100W
Voltage: 250V
5KV T250
Weight (Kg): 0.02
Cable chooses: silicone, braided, temperature resistant
Available cord: 0.3 / 0.5 / 0.75 / 1mm2
Main material: Radio ceramic
Contact: Nickel-plated copper
Ceramic MR16 socket: maximum outside diameter of 2 inches with a multi-faceted reflector lamps in the lighting industry, lighting models by the letters of the alphabet and numbers, MR is the abbreviation of the English Multifaceted (Mirror) Reflector means a plurality of reflecting Surface composition into the reflector.
The digital representation of the maximum outer size of the lamp, as a multiple of 1/8 inch, "16" indicates the lights, With the maximum outer diameter is 2 inches.
The Mr16 light bulb socket is a small, but essential component for powering Mr16 bulbs. It allows for easy installation and replacement of bulbs, while also ensuring a secure and stable connection.
The socket's heat-resistant material helps to prevent overheating and prolongs the life of the bulb.
Mr16 lamp holders are commonly used in commercial and residential lighting applications, providing focused and efficient lighting in a variety of settings.
It's important to use the correct type of socket for the corresponding light bulb to ensure safety and compatibility.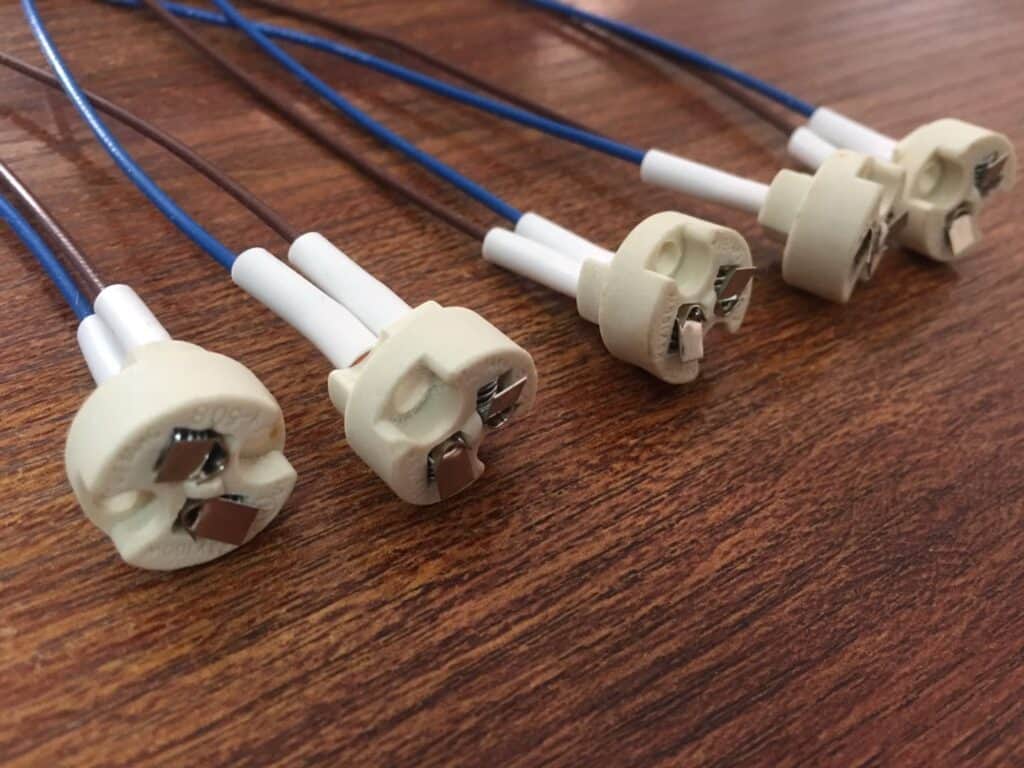 We're Trusted By The Best
You can get the best quality lamp sockets, because we supply to many big brands, The customized lamp holders can be made if you don't like what we have.
Our outstanding service is a great beginning of your easy import, Dramatically improve your product margins.
▶We have over 30 years experience in design and manufacturing of lamp holder accessories.
▶Our factory has been accredited to CCC and ISO9000 approval.
▶We specialize in lamp holder parts from raw materials to finished products.
▶Facilities and capabilities to design and develop new products to meet OEM project requirements.
▶We have a well-equipped in-house engineering tool shop and testing laboratory.
▶We follow the latest changes in published safety standards and European regulations.
Manufacturer of standard & custom sockets including Porcelain light sockets, Fluorescent light socket, Bakelite lamp socket, lamp cap, Brass sockets, Light bulb adapter and Pendant light socket.
Stocking programs provided. SAA, CE, PSE & UL approved. On-time delivery.
Can an MR16 lamp holder be used outdoors?
Yes, as long as the fixture and bulb are rated for outdoor use and are protected from direct exposure to water.
What is the maximum watt for an MR16 socket?
The maximum wattage for an MR16 light bulb socket is typically around 50 watts for halogen bulbs and 7-10 watts for LED bulbs.
Can I retrofit an MR16 light fixture with an LED bulb?
Yes, as long as the LED bulb is designed to be used in an MR16 socket and the fixture is compatible with the bulb's wattage and voltage requirements.
Can I use a dimmer switch with an MR16 LED bulb?
Yes, as long as the LED bulb is labeled as dimmable and the dimmer switch is compatible with LED bulbs.
Can an MR16 socket be used with different bulb types?
No, MR16 light bulb sockets are specifically designed to work with MR16 halogen or LED bulbs and should not be used with other bulb types.
What is the difference between a GU5.3 and a G5.3 MR16 socket?
The GU5.3 socket has a pin spacing of 5.3mm and features a twist-and-lock mechanism, while the G5.3 socket has a pin spacing of 5.3mm and features a push-and-twist mechanism.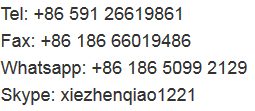 URL : www.lightbulbsocket.com
Add: NO.77, Shanli Road, Mingqing, Fuzhou, China.