Lamp holder E27, E14, E12, E26 are very popular in our daily life, "E" at the beginning is usually: screw socket, GU10 Gu at the beginning for our daily use of the bayonet. GU:G said lamp type is a plug-in,  you said lamp presents a U shape, the numbers behind said lamp foot hole center distance (mm, mm).
Porcelain lamp holder is constructed of ceramic, screw shell, contact .
Body material Porcelain  ceramic
Screw shell Nickel-plated copper 0.5mm thickness, Aluminum plated copper,
Contact  Nickel-plated copper 0.8mm thickness, Stain steel, Iron plated copper.
Available cord 0.75mm2, 0.5mm2.
How to choose the right porcelain lamp socket, the tips as following:
A) surface treatment effect, color and sample plan according to the sampling plan
B) rated voltage, rated current, standard number, certification mark,
C) lamp model, voltage, current, certification marks a clear, complete screw cap mouth ring surface should clean and bright, should not wrinkle,
D) wires with smooth surface, no scratches, through parts no sharp edges, burrs, uniform insulation thickness, the thread processing reference samples (immersion tin, riveting terminal).
E) the wire is fixed and the screw is not dropped. Lamp shrapnel and hardware requirements without loosening, tilt, and lamp good contact,
F) no rust surface, no cracks in thick material specifications to meet the requirements, the damage.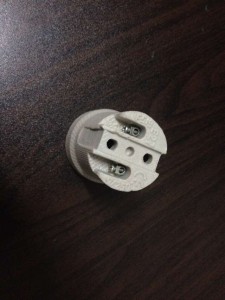 E27 socket, E39 lamp holder is refers to the ordinary screw lamp cap size, usually E27 socket is use incandescent lamp, E40 is bigger than e27 lamp holder, more use for the metal halide lamp and high pressure sodium bulbs.
MR16 lamp holder: "MR" means Multi-face reflect, many sided reflection (cup), "16" means bulb caliber (the unit is 1 / 8 inch),the caliber of MR16 socket:16×1/8=2 inch≈50mm, "MR" is the push-in lamp holder,two pins, usually use for the halogen lamps and led lamps,it's very convenient to install.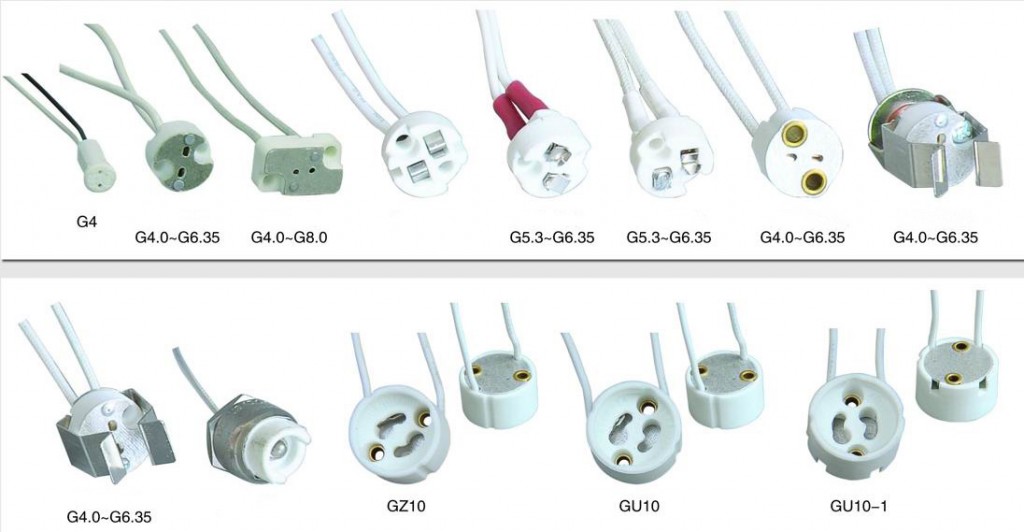 GU10 lamp holder:  "GU" is the bayonet type. GU: "G" means lamp holder type is a plug-in, "U" means lamp is U shape, the "10" shows the center distance of lamp foot holes (mm). The good quality GU10 lamp holders with 15cm silicon wire,
Rated voltage & Amp at:    2A, 250V,
Contact : Nickel-plated copper,
Cable choose: silica, braided, teflon, high temperature resistant,
Available wire: 0.5 / 0.75 / 1mm2,
Body material: Ceramic body, metal fitting,
Cetificate: UL,TUV,CE,RoHS.