Rectangular gu5.3 lamp holder ceramic mr16 light bulb socket for low voltage halogen lamps
Inquiry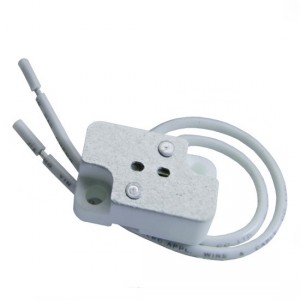 Rectangular porcelain MR16 socket with 15cm cord for LED & halogen lamps
Type: GU5.3 plug in base
Electric current: 2A 100W
Voltage: 250V
5KV T250
Weight(Kg): 0.02
Cable choose: silicone, braided, teflon,high temperatured resistant
Available cord: 0.3 / 0.5 / 0.75 / 1mm2
Main material: Radioceramic
Contact : Nickel-plated copper.
Our current rectangular gu5.3 halogen socket is available with a variety of cord sorts:
0.75m2 silicon rubber braided wire 15cm,0.5m2 silicon rubber braided wire 15cm,0.3m2 silicon rubber braided wire 15cm,0.75m2 silicon rubber wire 15cm,0.5m2 silicon rubber wire 15cm,0.3m2 silicon rubber wire 15cm,0.5m2 braided wire 15cm. We offer modifications such as mounting brackets, reflectors and other hardware, upon your request. Generally the most common use in our lives is halogen lamp, The number of low-voltage (12V, 24V, 36V, etc.) lamps using MR16 light socket.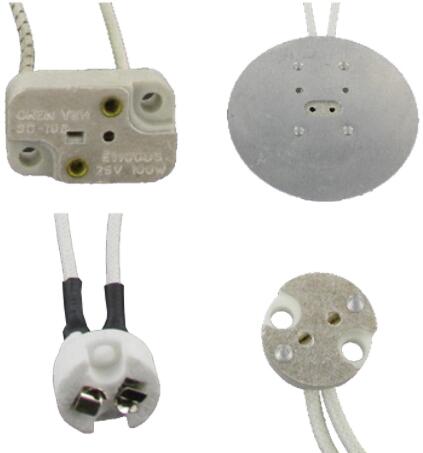 This low voltage GU 5.3 light socket has a slotted Steatite base and can therefore be used as a GU5.3 halogen lamp socket suitable for MR16 bulbs or a GY6.35 lamp holder. Rated at 10A 50V and suitable for up to 100W, ideal for use with low voltage halogen and dichroic lamps. Supplied with 350mm Teflon insulated high temperature wires, stripped to 8mm and suitable for up to 180 degrees Celcius.
General default MR16 base is gu5.3 lamp holder, insert two pins. GU10 refers twisted thin hanging twisted kind of lamp holders.Current MR16 halogen lamp holder, GU10 lamp holder, whether or GU5.3 lamp base, can be made high and low pressure, because it has a relationship with the lamps inside the drive.The mainstream the GU10 lamp holder for high pressure; GU5.3 lamp base for low pressure, but there are many customers to be 5.3 lamp base made.
Summary
Reviewer
Review Date
Reviewed Item
Rectangular gu5.3 lamp holder ceramic mr16 light bulb socket
Author Rating





Related Items