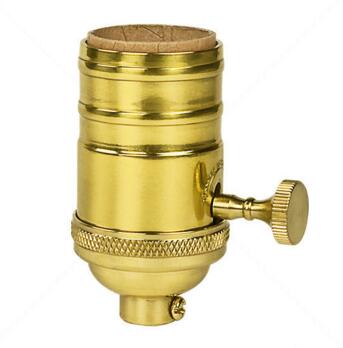 E26/E27 Brass lamp socket lamp supplier & manufacturer
1.Light Base: E27/ E26
2.Switch: with or without
3.Body finished: smooth or thread with rings.
4.MOQ:50pcs per color
Input Voltage Max: 250VAC
Rated Current Max: 4A
Earth Requirement: Yes
Temperature Classification: T170
Material: Brass
Base Type: Edison Screw, ES, E27
Entry Type: Collet Style Cable Grip
Maximum Static Load: 3kgs
Shade Nut: Yes, one as standard.
Pendant Brass socket lamp Edison E27 fitting with new brass body. Internally this Brass Pendant Lamph older Edison E27 features a quality ceramic insert and brass screw terminals.
This precision made solid E27 Brass socket lamp features a high-quality ceramic insert with brass screw terminals. A compression style cord grip ensures that the cable cannot be pulled from the fitting.

Brass Switched Lamp holder Bayonet B22 fitting, 24O V, 4A with antique brass body, ceramic terminal insert. For use as a switched Pendant Lamph older please choose Cord Grip mechanism option as it ensures that cable cannot be pulled out of the fitting.
Earthed system means fitting can be connected to metal components like a shade ring or wire.
The body is joined by a solid brass threaded collar and another threaded ring is provided for securing a lampshade. The base includes a screw terminal for an earth wire.
The Safer Switch offers the consumer an extra level of safety previously unavailable in this type of E27 lamp holder.
A simple yet reliable patented innovation ensures that the switch returns and remains in the off position whenever the bulb is removed. Made to fit Standard and Table lamps.
Internally Earthed system that requires 3 core flex and needs to be wired with earth for use.
The lamp holder has a diameter of 32mm and height of 60mm.
Comes with standard 1.5-inch long all thread and 1/2 hex nut or Cord Grip conversion
Complete with screw adjust shade nut.
FAQ:
What is a brass socket lamp used for?
A brass socket lamp is used for holding and connecting light bulbs in lamps, chandeliers, and other light fixtures.
What types of bulbs are compatible with brass socket lamps?
Brass socket lamps can be used with a variety of bulbs, including incandescent, LED, and fluorescent bulbs.
How do I install a brass lamp holder?
Installation of a brass lamp holder depends on the specific lamp and fixture, but generally involves connecting the wires to the terminals on the socket and securing the socket to the fixture.
What are the advantages of using brass socket lamps?
Brass socket lamps offer durability, corrosion resistance, and an attractive appearance that can complement a wide range of decorative styles.
What are the different types of brass socket lamps available?
There are many different types of brass socket lamps available, including candelabra sockets, medium base sockets, and mogul base sockets, each designed for use with specific types of bulbs.
What are the most common finishes for brass lamp holders?
Brass lamp holders are available in a variety of finishes, including polished brass, antique brass, and brushed brass.
What safety considerations should I be aware of when using brass socket lamps?
It is important to ensure that the lamp is properly wired and grounded, and to avoid using bulbs that exceed the recommended wattage for the socket.
What are the most common applications for brass lamp holders?
Brass lamp holders are commonly used in residential and commercial lighting fixtures, as well as in decorative lighting such as chandeliers and wall sconces.
How do I choose the right size brass lamp holder for my fixture?
The size of the brass lamp holder will depend on the size of the fixture and the type of bulb being used. It is important to select a socket that is compatible with the bulb and can support its weight.