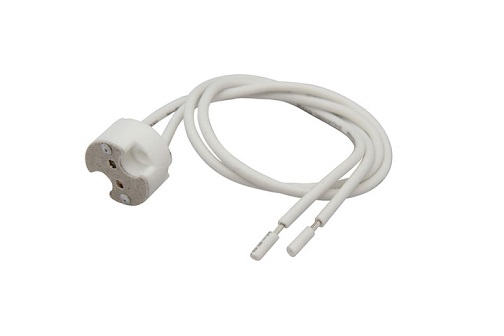 Socket mr16 with tails for LED & halogen lamps
Type: Socket mr16 plug in
Electric current: 2A 100W
Voltage: 250V
5KV T250
Weight(Kg): 0.02
Cable choose: silica, braided, teflon,high temperatured resistant
Available cord: 0.3 / 0.5 / 0.75 / 1mm2
Main material: Radioceramic
mr16 connector: Nickel-plated copper.
Socket mr16 characters : maximum outside diameter of 2 inches with a multi-faceted reflector lamps in the lighting industry, lighting models by the letters of the alphabet and numbers, MR is the abbreviation of the English Multifaceted (Mirror) Reflector means a plurality of reflecting Surface composition into the reflector. The digital representation of the maximum outer size of the lamp, as a multiple of 1/8 inch, "16" indicates the lights, With the maximum outer diameter is 2 inches.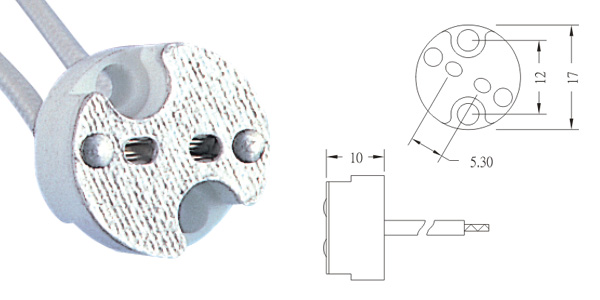 Socket mr16 Description:
Wire material: silicone / braided / teflon,high temperatured resistant
Size: 17 mm Dia x 10 mm H / 150 mm Wire
can lighting dimmer grafik eye halogen.
Round ceramic Socket mr16, two Silicon tier. Pair screw mount holes recessed
High Temperature Resistant,Definitely designed for the high temperatures encountered on halogen assemblies.
Socket mr16 wire connector base plug.Fitting for any MR16 MR11 LED light or traditional halogen lamps.
This low voltage Socket mr16 has a slotted Steatite base and can therefore be used as a GU 5.3 socket suitable for MR16 bulbs or a GY6.35 lamp holder. Rated at 10A 50V and suitable for up to 100W, ideal for use with low voltage halogen and dichroic lamps. Supplied with 350mm Teflon insulated high temperature wires, stripped to 8mm and suitable for up to 180 degrees Celcius.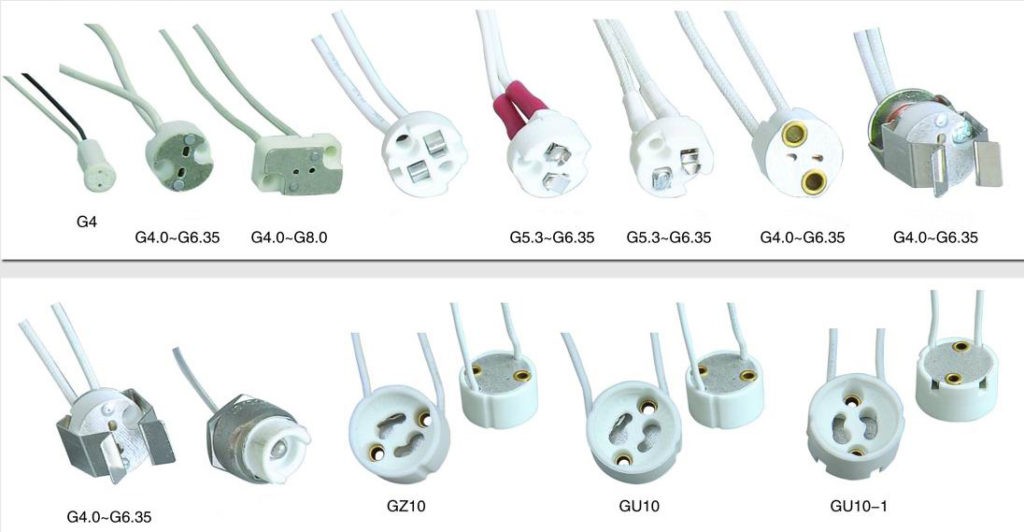 Shipping:
1. OEM: accepted;
2. FOB, CIF, CAF, Door to Door;
3. Payment term : T/T ; LC ; Western union ; Paypal;
4. Certificates: CE, RoHS, UL, VDE, ISO9001 Quality System;
4. Delivery Time: 3-7 days for samples; 5-25 days for batch goods;
5. HS CODE: 8536610000
6. MOQ:500pcs
7. Delivery Method:
A. Express: DHL, FedEx, UPS, TNT, Door-to-Door;
B. By air
C. By sea.