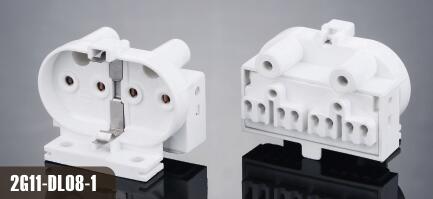 Plastic surface mounted 2g11 lamp holder specification:
Model: JMS-2G11-DL08-1
Weight:4.5g
Package:200pcs
Quality Certification: CE/RoHS/CQC
Light source: tubular fluorescent lamps
Light source power :4-80 (W)
Heat: T110 ° C
Withstand voltage: 2A / 250 V
2g11 lamp holder Scope: Grille, bracket lamp, three anti-light, clean lighting.

The 2g11 lamp holder continues to grow with the newly introduced LED series featuring rotary lamp-lock technology and bottom push-in wiring. Our linear fluorescent brochure details the many different mounting, wire insertion and lamp insertion configurations available.