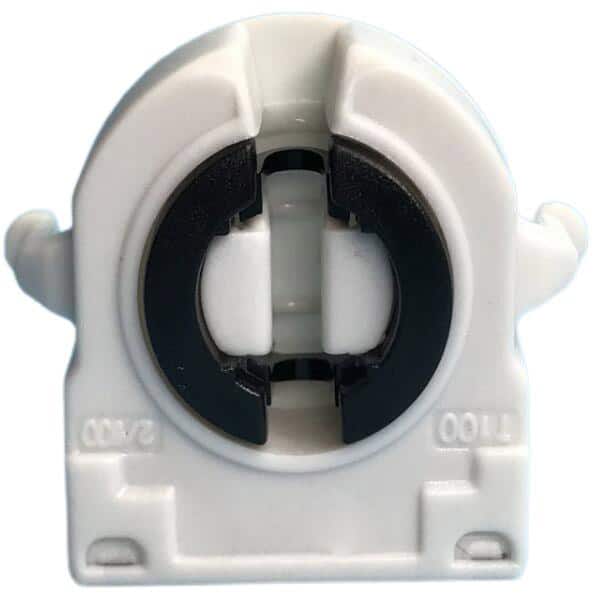 G13 End fixing lamp holders fluorescent light fixture sockets:

Thickness 9.5mm
Snap in pins with/without spring
Rated voltage/current: 250V 2A
Working temperature: 220℃
Lamp holder shape: Round, Oval, tombstone
Contacting: Phosphor bronze contacts,
stainless spring, PC body,
Rated temperature: T130/Tm110
For wall thickness: 0.5-1.1 mm
Push wire terminals 2 holes: 0.5-1mm2.
OEM: Acceptable
Packing: 1000pcs/ctns
Carton Size: 46cm×35.5cm×35cm
Weight: 27KG
Payment Method T/T: 30% deposit, balance before shipment.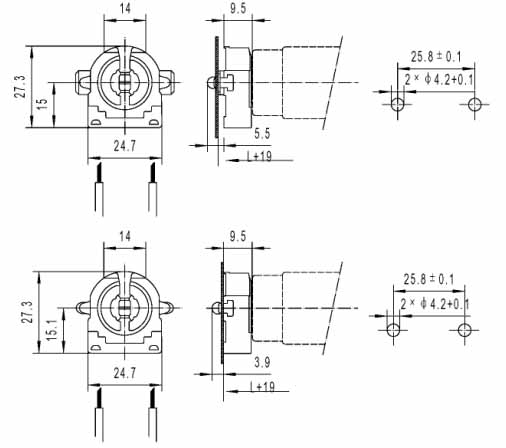 Features:
G13 pin spacing
F41 maximum wattage rating
Stainless spring for secure lamp connection
Pin spacing: G13
Material: Stainless steel spring
Usage: Fluorescent lamp holder
Description:

The G13 F41 fluorescent lamp holder with stainless spring is a durable and reliable solution for securely holding and connecting fluorescent lamps.
The stainless spring ensures a strong connection between the lamp and holder, while the G13 pin spacing and F41 maximum wattage rating make it suitable for a wide range of fluorescent lamps.
This holder is made from high-quality materials and is designed to provide long-lasting performance in a variety of lighting applications.
The G13 F41 fluorescent lamp holder with spring allows you to connect a live and neutral wire to one end of the tube.
Caution: to avoid risk of fire make sure your tubes do not exceed the recommended wattage indicated on your light fixture.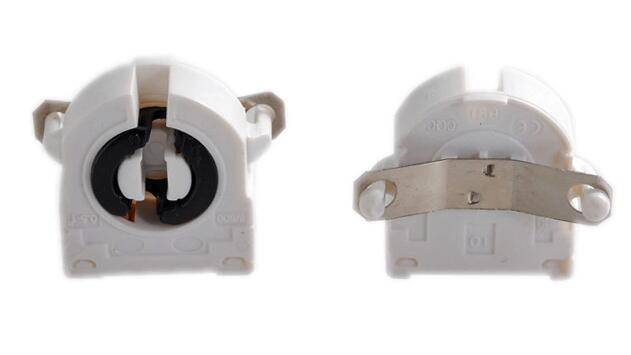 G13 End fixing fluorescent light fixture holders T8 are a kind of device which mechanically supports a lamp for the purposes of making electrical contact with the lamp. Fluorescent light holder's power waste is low, and has no effect on the environment.
What types of fluorescent lamps are compatible with a G13 F41 lamp holder?

A G13 F41 fluorescent lamp holder with stainless spring is compatible with a wide range of fluorescent lamps, as long as they have a G13 pin spacing. This includes T8 and T12 fluorescent lamps, which are commonly used in commercial and industrial settings.
It is important to ensure that the lamp used with the holder has a compatible pin spacing and wattage rating, as using an incompatible lamp could result in damage to the holder or the lamp, or could cause other safety issues.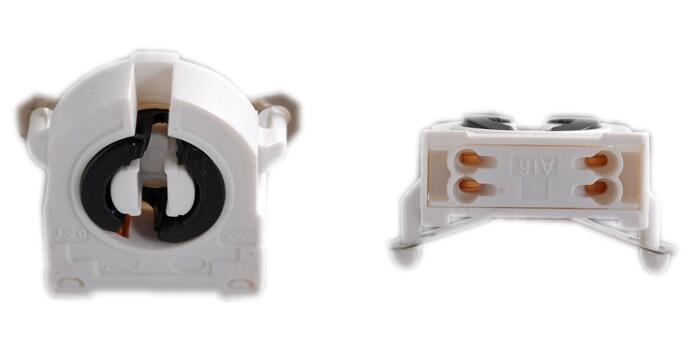 When selecting a lamp for use with a G13 F41 fluorescent lamp holder with stainless spring, it is also important to consider the color temperature and CRI (color rendering index) of the lamp. Different lamps have different color temperatures and CRIs, which can affect the quality of the light emitted.
Choosing a lamp with the appropriate color temperature and CRI can help to ensure that the lighting is effective and comfortable for users. Additionally, users may want to consider the lifespan and energy efficiency of the lamp, as these factors can affect the cost and sustainability of the lighting system.