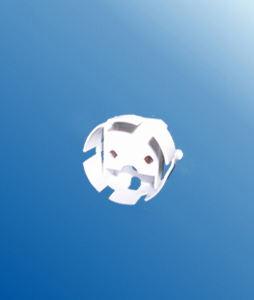 T8 Push on fluorescent tube socket lamp holders G13 F06:
Snap in pins
Lamp axis: 26 mm
With big rotor
Rated voltage/current: 250V 2A
Working temperature: 220℃
Lamp holder shape: Round, Oval, tombstone
Contacting: Phosphor bronze contacts,
stainless spring, PC body,
Rated temperature: T130/Tm110
For wall thickness: 0.5-1.1 mm
Push wire terminals 2 holes: 0.5-1mm2.
OEM: Acceptable
Packing: 1000pcs/carton
Carton Size: 46cm×35.5cm×35cm
Weight: 27KG
Payment Method T/T: 30% deposit, balance before shipment.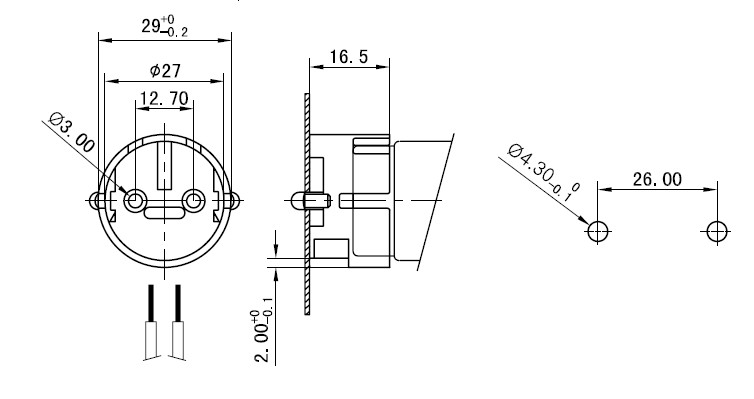 fluorescent tube socket lamp holders G13. Bidirectional socket provided by the fixed end of the casing, pumping core socket, casing cover, the protective net, a reflection plate, glass, etc., characterized in that the two fixed ends of the housing through the protective net is connected into a unitary.
The socket is installed on the fixed end housing threading tube and reflector plate, the left end of the flexible plug, core pulling the socket body and rubber seals, rubber seals installed on the right end of the socket body and tube positioning ring, core pulling.
High mechanical strength, illumination and reliable anti-minutes can save time, quickly and easily replace the fluorescent tube and lamp holders.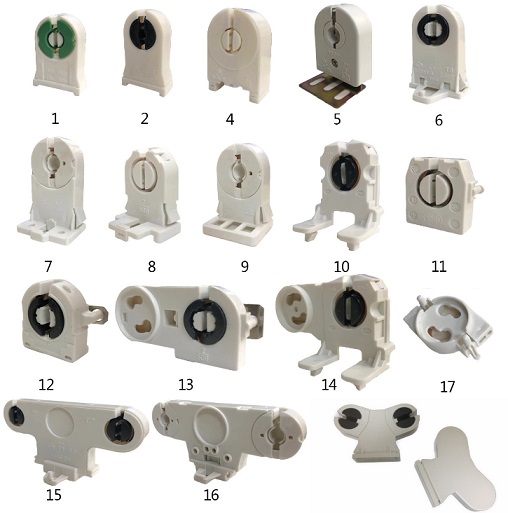 What is a T8 fluorescent tube socket?

A T8 fluorescent tube socket is a type of electrical connector that is used to connect T8 fluorescent bulbs to a fixture or electrical circuit. The socket typically consists of two pins that are spaced 8 millimeters apart, which are designed to fit into the ends of the T8 bulb.
When the bulb is inserted into the socket, the pins make contact with the electrical circuit, allowing current to flow through the bulb and produce light.
What are some factors to consider when choosing T8 fluorescent lamp sockets?
Based on my experience, there are 3 factors to consider.
First, it is important to choose sockets that are compatible with the specific type of bulb you will be using. This may involve selecting a socket that is designed for T8 bulbs of a specific size or shape, depending on your specific application.
Second, it is important to choose sockets that are made from high-quality materials and are designed to withstand the demands of long-term use. Look for sockets that are constructed from durable materials such as ceramic or high-temperature plastic, and that feature secure and stable connections to the electrical circuit.
Finally, it may be helpful to consider factors such as ease of installation and maintenance when selecting T8 fluorescent tube sockets. Look for sockets that are easy to install and that require minimal maintenance overtime, as this can help to reduce costs and minimize downtime.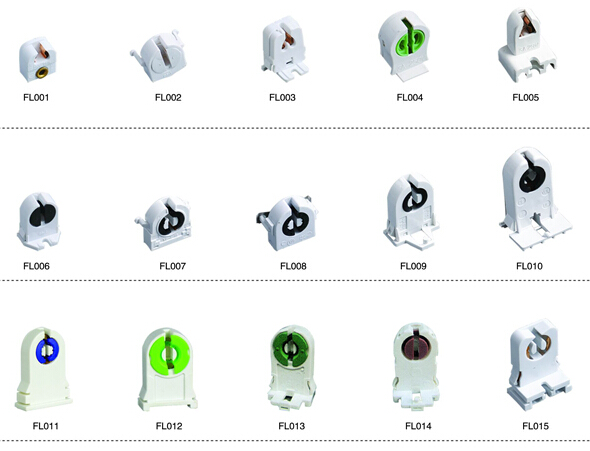 What are some common problems that can occur with T8 fluorescent sockets?
One common issue that can occur with T8 fluorescent light sockets is poor connection between the socket and the bulb, which can result in flickering, buzzing, or other performance issues. This can be caused by a variety of factors, including corrosion or damage to the socket contacts, or a loose or damaged bulb.
Another potential problem with T8 fluorescent tube sockets is overheating, which can be caused by a variety of factors including using the wrong type of bulb, improper installation, or insufficient ventilation.
Overheating can lead to reduced bulb life, reduced energy efficiency, and even a risk of fire, so it is important to ensure that the sockets are properly installed and maintained.