Vintage Porcelain E27 festoon lamp holder
Inquiry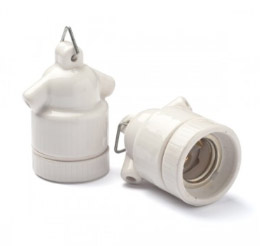 Porcelain E27 festoon lamp holder is a rewire-able Edison type light bulb socket. The threaded section is steel and the connector insulator is ceramic. Threaded lamp holder screws into place covering the neutral connection to the bulb.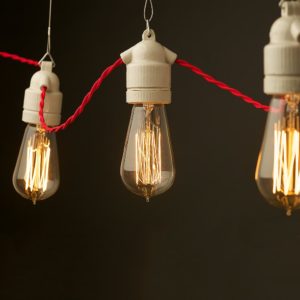 The vintage nature of this festoon lamp holder fitting combines with the Edison Style light bulb to give a candle light type color with a great look, suited to decorative event lighting for restaurants and bars, weddings, parties or displays. Best cable to use with this lamp holder seems to be 2 core braided. We have limited stocks of two core braid but 3 core with the earth unwound will work fine.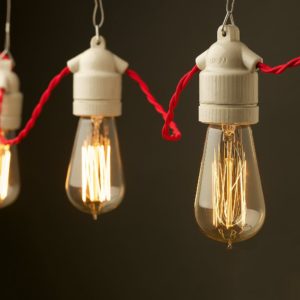 Cut cables to length to allow for lamp holder spacing, twist together actives and connect to brass connector then do the same for the neutral connector. Feed the cable back through upper exit points carefully to allow festoon lamp socket to screwed into position.
Fitted with fixed steel ring for connection to steel cable, light chain or other suitable hanging material. Wiring is an "in parallel" festoon style with two active wires and two neutral wires. This lamp holder can also be used as a pendant by wiring positive and neutral to either side of the light bulb socket and suspending via the steel ring.
Related Items