Ceiling lamps commonly used square cover ceiling lamps, round ceiling lamps, Tsim oblate ceiling lamps, half dome ceiling lamps, – Bian ball ceiling lamps, small rectangle cover ceiling lamps and so on.
Ceiling lamp is suitable for living room, bedroom, kitchen, bathroom, etc
Ceiling socket with Pull Chain
Cooper Porcelain ceiling socket Keyless Lamp Holder White
Voltage:250V
Working: Current 4A
Material: Porcelain/Ceramic
Metal Material: Iron, aluminum, zinc alloy, copper plating, zinc plating,
Porcelain Body: not glazed
Screw Shell: E14 zinc-plating iron/copper-plating iron/brass/aluminum
Center Contact: Copper/iron copper plating/stainless steel
Center Piece: Copper/iron copper plating/stainless steel
Terminal: Copper/zinc alloy
Contraction Screw: Copper/zinc alloy.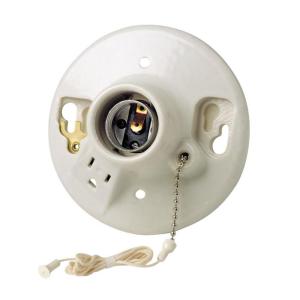 Embedded anti-fire ceiling down light, includes a light source, ceiling socket, the support frame and fire cover, connected with the lamp light source is mounted on the support frame, the support frame installed in a fireproof cover, fire has an outer flange at the bottom of the cover, characterized in that: mounted on the outer flange expandable fireproof apron.
Because the fire dome is mounted on the outer flange expandable fireproof apron, the expandable fireproof apron instead of the original fixtures embedded waterproof seal and expandable fireproof material.
Thereby simplifying the structure of the utility model; and expandable fireproof apron water without distortion, so that the ceiling or wall is formed between the surface and the fire cover a tight space, protect the model has good moisture-proof, waterproof and fire functions.