Keyless lamp holder offers electrical connections to the lamp and help it inside the flood light fixtures, the usage of keyless lamp holder allows lights to become safely and conveniently replaced (re-lamp) in the end of life, or to transform power, color, lighting technology and so on.
There are plenty of different standards for these keyless lamp holders, created by many standards bodies, some miniature lights have wire leads suitable for direct connection to wires, some reflector equipment and lighting have screw terminals for wire connections.
The keyless lamp holder in national standard for screw cap or bayonet lamp. Cap quality relates to energy-saving lamps of interchangeability and protection against electric shock and other security requirements, cap the size of unqualified easily lead to broke off from the lamp holder, lamp and electric shock risk.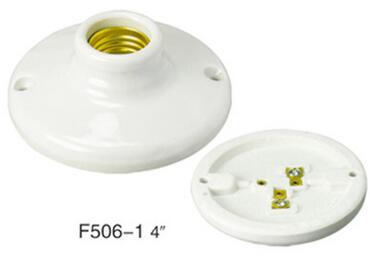 E27 lamp holders : E on behalf of the Screw figures after the letters representing the interface diameter size (cm). E27 is 2.7cm screw lamp is generally used in our life is E27 and B27, of course, E40, E40 majority for special lighting, general power
Lamp withE40, such as a 1000W metal halide lamp, etc.
There are also some rather special lamps, such as: G24 lamp, G24 are Horizontal Plug caps.
E14, E27, E12, E26, usually beginning with E: screw lamp holders
GU10 GU beginning for our day-to-day with a bayonet, GU: G lamp types is a plug-in, U lamp part of a U-shaped, followed by numbers indicate light foot hole center distance (mm "MM" refers to).
MR16, MR11 common this lamp holder to the MR the beginning of the line small local lighting spotlights, usually the small spotlights two pins easy to install.
MR16, GU10 everyone lamp holders, PAR30, 38 different diameters, a standard called, are light cup are called spotlights, each suitable for different ceiling lamp.
MR16 lamp holder refers to the maximum outer diameter of 2 inches with a multi-faceted reflector lamps in the lighting industry, the MP11 is than lamps MR16 smaller,
MRMR: Multiface Reflect, multi-faceted reflector (lamp cup), followed by numbers indicate the the lamp cup diameter (the unit is 1/8 of an inch), MR16 diameter = 16 ×
1/8 = 2-inch ≈ 50mm.
PAR lamps are generally PAR30 PAR36 PAR46 PAR56, the volume of long or short, also called downlights, irradiation beam used to illuminate the stage, dynamic color
changing common stage lighting, because power consumption is relatively large, and grilled feeling, now gradually replaced by LED PAR lamp.
AR111/AR70 aluminum cold reflector halogen spotlights.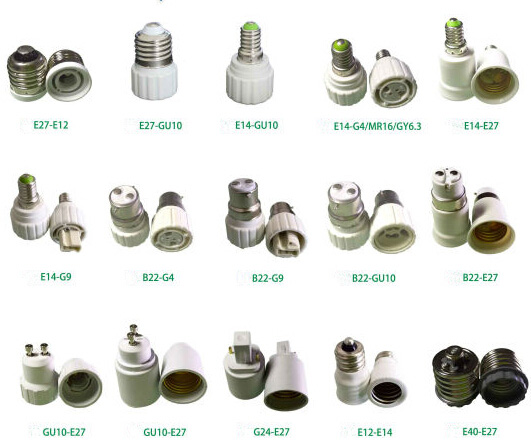 E27, E14 refers to ordinary screw base lamp size, the E27 we usually use incandescent lamp, E14 than smaller, than the E27 as well as E40.
G12 is a single end of the tubular metal halide lamp.