LED holder, commonly called "fluorescent lamp holder", LED holders for fluorescent lamps: tube T8, T5,  T12 with reduced dimensions, Slimline, circular, VHO (Very High Output) lamps and HO (High Output) with high luminous efficiency, "U" shaped and compact fluorescent lamps. LED tubes are the most used lamps for the internal lighting of industrial and commercial areas.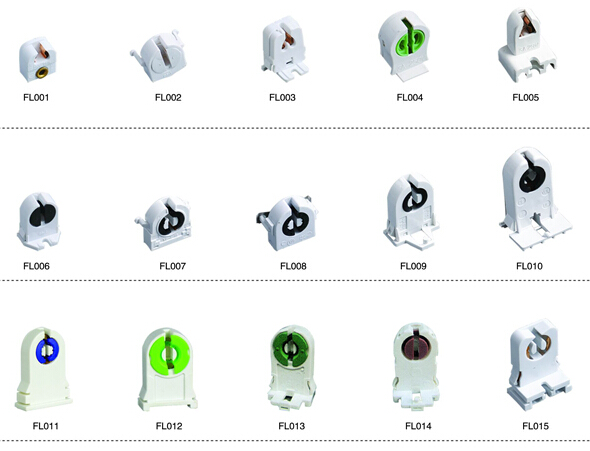 FURI manufacture fluorescent lamp holder for virtually every light source equipped with fluorescent,incandescent, CFL lamps.The majority of LED holder for TC lamp using PBT, a thermoplastic material. This highly heat-resistant material is responsible for the T138 temperature rating. Leading lamp manufacturers also use PBT for the fluorescent lamp holder they manufacture. This material harmonisation in conjunction with fatigue-free, stainless steel lamp mounting springs ensures a permanently secure lamp fit.
Fluorescent lamp holders include LED holder,incandescent medium base and fluorescent lamp holder, in addition to a large line of porcelain lampholders including pulse-rated mogul-base products, and an extensive selection of devices for high-intensity lamps, LED holder, Watts 660, Voltage 600, Connection Quickwire Push-in, Mounting Short Slide-on, Color White, Features Non-Shunted, Use With 1.69 In. High Medium Bipin Slide-on & Screw Mount, Easy to install,Standard LED fluorescent lamp holder designed for fluorescent medium bi-pin lamps.